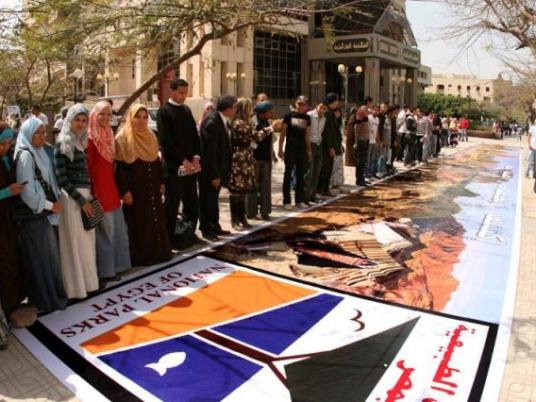 All kinds of demonstrations are expected to fill Tahrir Square and nearby streets on 25 January. All sorts of demands, expectations and disappointments will be voiced by the crowds taking to the streets that day, in Cairo and in the other governorates.
Nature lovers and promoters of ecotourism are also planning a get-together on that day, carrying a 30-meter-long banner depicting the rich biodiversity and historical importance of the country's 28 protected areas.
The initiator of this "celebration march" is sustainable architect, filmmaker and photographer Gabriel Mikhail. He had the idea of bringing together nature lovers, park rangers and conservationists right after the revolution, but says the project was nipped in the bud by the opposition of the ruling Supreme Council of the Armed Forces. "Although we had received the approval of the Egyptian Environmental Affairs Agency (EEAA), when it reached higher authorities it was stopped," he explains.
"I don't know how many people to expect on the 25th, because most people are discouraged right now," he admits with a sigh.
The aim of this march is not to push forward demands for more funding and training for protected areas, but mainly to advertise these remarkable natural parks and get some attention through the heavy presence of media on that day. All participants are encouraged to bring material to discuss major issues facing the protected areas and ecotourism with fellow protestors.
Although Mikhail is organizing a celebratory march, he says there is not much to celebrate as "the EEAA is still filled with army officers and should be purged." He also emphasizes the rampant corruption that sucks money out of conservationism projects.