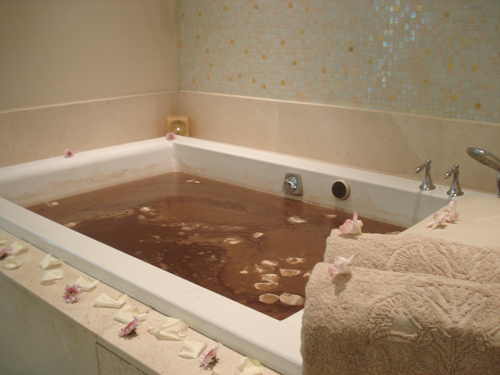 Just as fast as restaurants are opening in Zamalek, yoga, meditation and massage centers are picking up in popularity acorss the city. And whether you relieve stress better through eating or through finding zen with yoga and meditation, few will turn down the chance to lie or sit back for a little muscle tension relief at the hands of a professional masseuse.
During times like these, how do you justify spending money on something that seems such a luxury? Doctors and massage therapists can justify it for you — the benefits of massage are far more than merely lifting your spirits.
"Studies have shown that massage lowers cortisol levels in the body," says general practitioner Dr. Nahed Abdel Haq.
Abdel Haq explains that cortisol build up takes a toll on immunity. Massages will also get your disease-fighting white blood cells multiplying, not to mention working on stress.
How much stress will be acquired by the price of the massage? It depends on where you go, really. Massages at hotels can start at LE500 and pass the LE1,000 mark, but often throw in time at the pool, jacuzzi and steam rooms.
New massage parlors around town start a little lower — as low as LE100 for a "therapeutic Chinese foot massage" that lasts 45 minutes. There are massage practitioners around town who will come to your home for LE150–300, but those are better passed around by word of mouth and personal references due to the sensitive nature of letting someone into your house.
An ayurvedic massage center has opened up in Dahab if you're willing to travel for your massage and soak in the natural healing vibes of the Red Sea while you're there.
Check out our massage recommendations for a little self-indulgence.
Chocolate massage at the Kempinski
Our inspiration for this piece was a new yet pricey offering at the Kempinski Nile Hotel Cairo in Garden City. Get ready to be covered (twice!) from head to toe in chocolate at the hotel's luxurious spa — once with a revitalizing cocoa massage, and then again while you relax in a chocolate-filled jacuzzi.
According to the Kempinski spa, chocolate offers various benefits, smoothing your skin as well as lifting your mood. The chocolate body treatment kicks off with dry body brushing that stimulates blood circulation and gets rid of dead skin cells.
After exfoliation, a mixture of dark cocoa powder, honey, sweet almond oil and warm water is applied directly to your skin. Then the body is tightly wrapped in a plastic body wrap and a blanket. The mixture is left for 20 minutes to work on the skin and ensure absorption.
The chocolate present in the mixture helps soften tough skin. Additionally, the dark chocolate used contains a high level of antioxidants, which increase collagen levels and reduce the effects of skin aging.
Kempinski's chocolate masseuse said that unlike eating chocolate, a chocolate body wrap helps you lose weight and get rid of cellulite, because it contains theobromine, which burns fats. During the 20-minute body wrap, enjoy a head massage, which works on cranial nerves to relieve tension.
After taking a shower, you have a revitalizing full body massage with a natural oil combined of cocoa butter and lavender and rosemary scents to further soften skin texture and eliminate toxins. The treatment ends with taking a dip in a chocolate jacuzzi for 20 minutes to relax your muscles.
At this point, you're offered a chocolate milk to drink.
The Kempinski chocolate treatment takes two hours and costs LE599, excluding taxes. Spa treatments are available from 10 am to 10 pm, and advanced booking is recommended.
Maadi's Chinese massage parlor
Located across the street from Gold's Gym in Maadi, in Mesaha Square on Road 9, Maadi's new Chinese massage parlor offers an array of treatments and services. The center has two floors of different massage rooms — some typical individual rooms with massage tables for full body massages, and others with huge, flat-screen TVs and massage chairs for foot massages.
The staff's English is minimal, but the prices and descriptions on their leaflet are clear and the masseuse team is professional.
Suzanne Hakim, 37, has used their service weekly since they opened.
"I was a little worried in the beginning because it was difficult to communicate with them and they offered me a male masseuse, but everything was done professionally, and I've been going ever since," she says.
Hakim explains that because the parlor is still new, it is easy to tailor a treatment, and the staff members are very willing to personalize and accommodate.
During your massage, you can watch a movie and sip jasmine tea, while the masseuse massages your feet using different techniques such as pressing pressure points and cupping.
The whole experience was very stress-relieving. A traditional Chinese foot massage should cost LE140, but the parlor was willing to adjust the time and price to 45 minutes for LE105.
Home massage
Most good masseuses who will come to your home do not advertise. The practice is as dangerous for them as it is for you, and often the number of a home masseuse will be passed around among friends.
"I don't take clients who aren't referred by other clients," says Ella Abdel Aziz, a Thai masseuse who takes LE200 for a 60-minute massage and LE250 for 90 minutes.
Abdel Aziz explains that her main worry is male clients.
"I'll massage my clients' husbands, but never a male client who is single or lives alone," she says.
Home masseuses rarely come with a table — you'll have to clear a spot on your bed.
Do it yourself
Although do-it-yourself massage training has yet to come to Cairo, physical therapist Shanita Voss shared some of her tips for people who cannot find time to book a massage or do not have the money to do so. All you'll need is a partner.
The essentials of hand massage:
Start with wrists and forearms by gently stroking up and down the arm, and gradually increase the pressure as you move up before softly gliding back down.
Once you have gone over the forearm once, use your thumb to unravel any knots.
Turn the arm over and repeat before putting the arm at a right angle and massaging muscles.
Next, give each finger a little squeeze, then turn the hand over and use your thumbs to massage the palm.
Use a firm, slow pressure, then stretch the palm out.
To finish, turn the hand back over, do a couple more gentle strokes up and down the arm.
"Giving and receiving a hand massage leaves you relaxed and calm," explains Voss. "Whether you believe in holistic health or not, you cannot deny the stress relieving powers of massage."