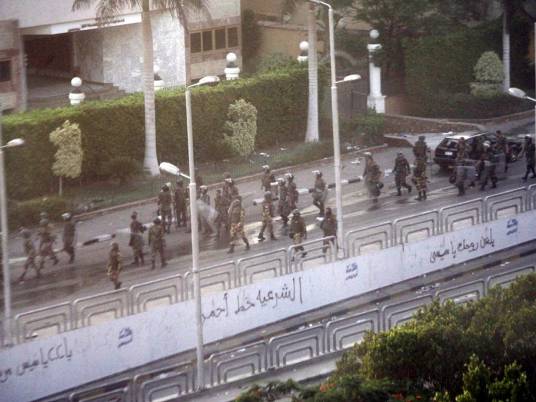 The Heliopolis Prosecution has reviewed the investigation conducted by the Interior Ministry's National Security Apparatus which revealed that the violent clashes that broke out at the Republican Guard Headquarters resulted from incitement to violence by Muslim Brotherhood and Jama'a al-Islamiya leaders.
According to an investigation by the National Security Apparatus, the violence was incited by Mohamed Badie, the Muslim Brotherhood supreme guide, Mohamed al-Beltagy, a Brotherhood leader, Bassem Ouda, the former Supply Minister, Safwat Hegazy, a preacher, Essam al-Erian, vice president of the Freedom and Justice Party, Abdel Rahman al-Barr, a member of the Brotherhood's Guidance Bureau, Osama Yassin, the former youth minister, Mohamed Taha Wahdan, a member of the Guidance Bureau, Saad Emara, a member of the dissolved Shura Council, Tareq al-Zomor, the head of Jama'a al-Islamiya's Construction and Development Party, and Assem Abdel Maged, a member of the Jama'a al-Islamiya shura council.
The above figures incited their supporters and members of the Brotherhood to use violence and clash with the Armed Forces at the Republican Guard House to reinstate ousted President Mohamed Morsy, the investigation found.
The investigation also showed that the accused Brotherhood leaders partnered with thugs in using violence against the Armed Forces to achieve their goals.
The report also says that the suspects formed a media group made up of Essam al-Haddad, Ahmed Soubei, Khaled Hamza and others to fabricate news about the killing of women and children at the hands of the Armed Forces at the protest, and to disseminate this false information to the media.
Edited translation from MENA