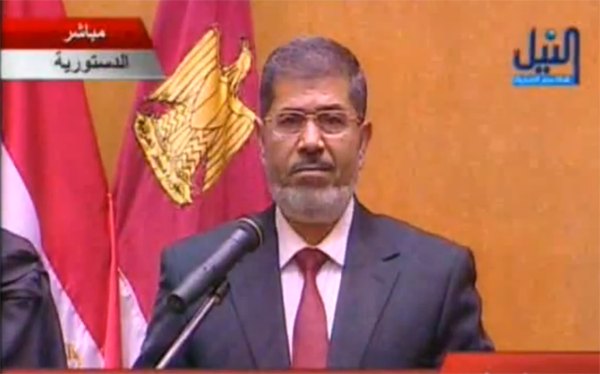 National Front members have criticized the lack of transparency in President Mohamed Morsy's choices of the government and presidential team.
In a conference Saturday, members said that Morsy achieved none of his vows to have national partnership in decision-making, amend the constituent assembly and to form a cabinet headed by an independent figure. Members added that they considered their criticism of the president a national duty.
The National Front was formed on 22 June as a national opposition movement aiming to achieve the revolution's goals and remind the president of his promises.
Morsy made the vows in writing during a meeting with the group on 22 June, before the results of presidential run-off elections were announced.
Political Science professor and National Front member Heba Raouf criticized the absence of standards in forming the new government. "Although Morsy selected a technocratic prime minister, most of the names approved as ministers refer that the cabinet formation is based on partisan standards," she said. Raouf also criticized the lack of transparency in the selection process.
Raouf called on the president to declare standards for selecting his deputies, advisors and administrative team, saying it was unclear if he will have a consultative or administrative team.
National Front spokesperson Hamdy Qandil said that the group's statement came in response to Morsy's failure to uphold the vows he made 22 June.
Abdel Galeel Mostafa, the former general coordinator of the National Association for Change, said, "There is still time for the president to amend the Constituent Assembly through withdrawing [Islamist representatives] and including other civilians. This request will not weaken the assembly and will fill in the gap of presence of MPs who should be dismissed, so it wouldn't be dissolved like the previous one."
Political Science professor Seif abdel Fattah said the national partnership that the front sought doesn't mean power-sharing, but would guarantee the participation of all segments of society in running the country.
The president's office announced Tuesday the selection of Hesham Qandil, a former irrigation minister, as the new prime minister. Qandil was not among those expected to be named to the position, and some political groups and individuals have criticized the decision.
Qandil announced Saturday that the declaration of the new government would be postponed to Thursday, as negotiations with nominees for ministerial posts are still ongoing.
Edited translation from Al-Masry Al-Youm