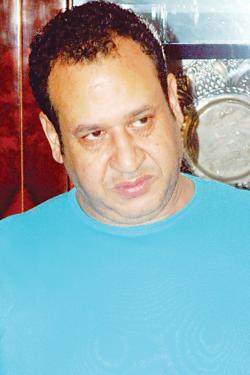 General Prosecutor of the West Alexandria Prosecution Office Ibrahim al-Helbawy referred Sabry Nakhnoukh Helmy, the so-called "most dangerous thug in Egypt," and his aid Mohamed Sadeq to the criminal court on Saturday.
Nakhnoukh continues to be interrogated concerning charges of killing peaceful protesters.
Nakhnoukh was arrested with 16 of his assistants last Thursday in a villa in King Maryout, Alexandria. Public prosecutors have charged him and his gang with thuggery, possession of weapons and drugs, facilitating prostitution, and impersonating a judicial official after they found an identity card for an official bearing Nakhnoukh's image in his villa.
After listening to Freedom and Justice Party leader and former MP Mohamed al-Beltagy's testimony in the case, the investigator postponed the rest of the session due to Beltagy's obligations at a Constituent Assembly session.
Beltagy described Nakhnouh as the leader of the secret organization of thugs within the former regime, accusing him of assaulting political opponents during Mubarak's rule and holding him responsible for the deaths of eight people during clashes at the Ministry of Interior after the Port Said match massacre.
The charges brought against Nakhnoukh by the prosecution, such as the possession of drugs and weapons without license, were minor compared to the political crimes he was involved in under the former regime, Beltagy told Al-Masry Al-Youm. He stressed that Nakhnoukh should be interrogated for his alleged involvement in other cases where former officials made use of his gangs, citing citizen reports that Nakhnoukh had sent gangs of thugs in microbuses to the Ministry of Interior clashes.
Beltagy then called current Interior Minister Ahmed Gamal Eddin, who was head of the public security sector at that time, and was told that Nakhnoukh was leading gangs of thugs and that he was a wanted criminal.
Edited translation from Al-Masry Al-Youm