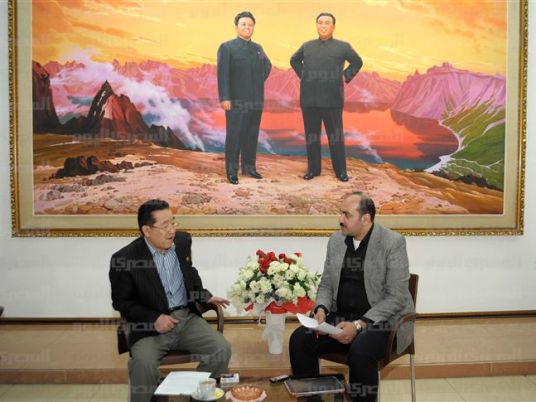 North Korea's ambassador to Cairo has defended his country's nuclear armaments program as necessary for the country's "survival on the plant" and as a "deterrent against continuous US threats".
Speaking in an interview with Al-Masry Al-Youm, Pak Chun Il said statements by North Korean leader Kim Jong-Un about the nation's readiness to use nuclear weapons were made in reaction to threats made by the US through its participation into annual war games that rely on "lethal nuclear weapons", including B52 bombers, F22 fighter jets and nuclear-armed submarines and aircraft carriers.
Resolutions by the UN Security Council that have imposed sanctions on North Korea were "unprecedented" and "have nothing to do with legitimacy," the ambassador said, accusing the UN body of "siding with the United States at the expense of other countries."
Pak Chun Il boasted that his country has managed to manufacture a hydrogen bomb "without any help from major countries." He maintained that international sanctions will make his country more persistent in its nuclear quest but more anxious not to transfer nuclear technology to any other country so that it is not "abused", as he put it.
It was North Korea's right to launch a satellite, the ambassador contended. "It is our right to use it for peaceful purposes, and there are no articles in international agreements that disallow it," said the ambassador. He added that even if his country's relations with the United States improve, it will not backtrack on launching satellites. "It is necessary not to barter nuclear weapons for satellites," the ambassador said.
Commenting on observers' speculations about a war with South Korea, the ambassador said the Korean Peninsula is already in an "actual Cold War, in which nobody knows when things are going to flare up."
He said he believes, however, that any military conflict would see his country victorious and end the division of the Korean peninsula.
"The Korean people rally politically and intellectually behind their leader, and our power cannot be denied."
"People have a belief in the importance of armaments at the expense of luxury. They never ate or had leisure like the other nations, because they prefer armaments to food," said the ambassador.
"However, we have established entertainment facilities like skiing areas, swimming pools, huge water parks in the capital and horse-riding clubs," he added.
"That said, though, we cannot deny we give priority to ramping up military capabilities, hence our success in the production of nuclear weapons, to which a portion of our living costs is devoted."
The ambassador said that the North Korean government provides ample subsidies for citizens, ensuring that all the basics of life are provided.
"The government is responsible for educating our people and treating them even in serious surgical procedures … That is in addition to cost-free housing and equal distribution of the strategic wheat reserve," said the ambassador.
"Whenever the country faces floods, citizens only need to pay for transportation and clothes for their families."
Commenting on the arrest of an American student in North Korea, Pak Chun Il stressed that the student was arrested for illegal activities, which he confessed in a press conference. He said that the decision to pardon him is up to North Korean authorities.
The ambassador said there are no North Koreans detained in US prisons.
Pak Chun Il said North Korea can provide technological support for Egypt in return for economic support.
"Despite the hardships Egypt is facing, aid and loans will help it to get back on its feet."
Edited translation from Al-Masry Al-Youm