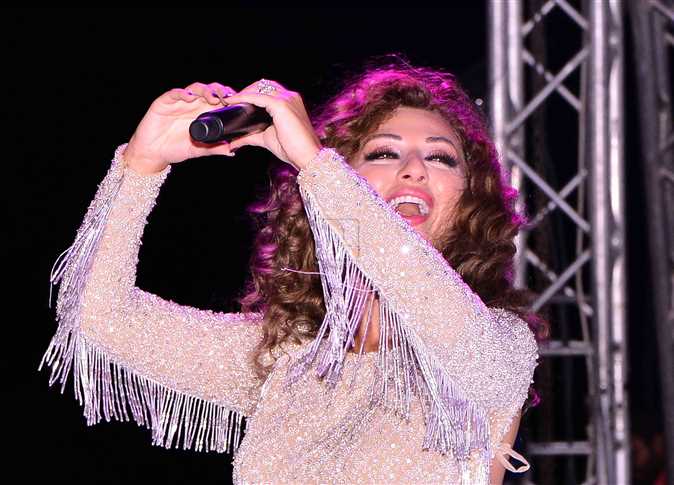 In a press conference held on the sidelines of the Moroccan Mawazine Festival, Lebanese singer Myriam Fares made comments that stirred Egyptians' anger.
When asked by one of the journalist conference attendees about not having performed in Egypt for an extended time, Fares said that before the Egyptian revolution she used to perform two or three concerts in Egypt every two weeks, and that post-revolution she stopped performing in the country as this was when she started to grow in her career.
"At that time I grew in my career and honestly, as you know I am too honest, I grew, my fees have significantly risen and my demands became higher well, thus I became too much for Egypt," she said.
"This is why I am not always present there," she added laughingly.
Directly after these comments were posted on social media, they were followed by a storm of intense controversy sparked by Egyptians, among whom were many celebrities who seriously criticized Fares and defended Egypt.
"You became too much for Egypt? Learn from the Arab world's stars. You've made the mistake of your life by this comment," Egyptian singer, composer and actor Ahmed Fahmy commented on his Twitter account.
Composer Amir Teima also answered Fares on his Twitter account, informing the performer that there are many noticeable singer who held concerts in Egypt after the revolution including Nawal El Zoghbi, Nancy Ajram and the legend Majida el-Roumi.
"We know the actual stars and that they are much greater than you. There is a major difference between you and them," Teima added.
Egyptian singer Ramy Gamal broadly revealed that Fares owes him money that she was supposed to give him a year ago.
Egyptians on social media launched the Arabic hashtag "Egypt is too big for you", which has gone viral over the past few days thanks to an abundance of witty and satirical posts.
"This is the land on which Umm Kalthoum, Mohamed Abdel Wahab, Shadia, Asmahan, Layla Mourad and more have been raised. Who are you then?" one comment asked.
Furthermore, many posts listed the names of the numerous Arab music legends who have performed in Egypt including Elissa, Asy El Helany, Fayrouz, and Mohamed Abdou. Thus Fares, who claimed that her concerts are too expensive for Egypt to afford, was proven wrong.
Egyptians lectured Fares about Egypt's treasured legacy, inviting her to officially apologize.
Meanwhile, Fares decided to face the fire and released an official statement on her Twitter account addressing Egyptians, whom, she alleged, are her beloved people.
In the statement, she said that backlash is a reaction to misunderstanding and miscommunications. She blamed the Lebanese dialect and accused some figures of attempting to ruin her image and reputation.
She clarified exactly all the word she uttered while answering the problematic question about Egypt.
However, Fares repeated in the statement that what she meant is that her fees have become high for organizers in Egypt.
She then expressed her deep love and respect for Egypt, paying tribute to the country and stressing that although she started in Lebanon, performing in Egypt earned her fame.