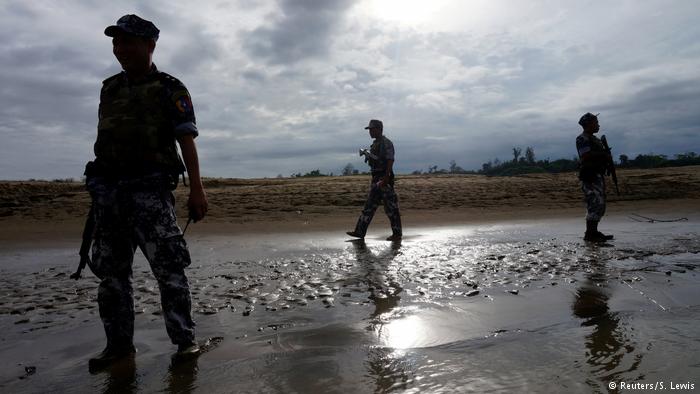 At least seven people have died after police in Myanmar opened fire on a group of ethnic Rakhine Buddhists. Authorities said they switched from rubber projectiles to real bullets after a celebration turned violent.
Authorities in Myanmar's restive Rakhine state confirmed on Wednesday that they shot dead several people when a nationalist celebration became violent late Tuesday night.
Around 4,000 ethnic Rakhine Buddhists gathered at a local government office and began throwing stones before attempting to seize the office late on Tuesday local time, local officials and police said.
"Security forces asked them to disperse and fired warning shots with rubber bullets … but they didn't stop, so police had to use real bullets," police spokesman Colonel Myo Soe told news agency AFP.
Read more: 'Apartheid' in Myanmar, accuses Amnesty
Seven ethnic Rakhine people were killed and another 13 wounded in the clashes with police, the spokesman said, adding that 20 police were wounded by the crowd.
The group of ethnic Rakhine had gathered to mark the 223rd anniversary of the end of the Arakan dynasty, the last Rakhine kingdom, at an ancient Buddhist complex in Mrauk U.
It was not immediately clear why the celebration turned violent.
The Rakhine state's government secretary, Tin Maung Swe, told the dpa news agency that attendees began to protest after they were told the celebration could not be held on the archaeologically significant site.
Tensions in Rakhine state
Ethnic Rakhine, who are one of the 135 ethnicities present in Myanmar, have a regional identity tied to the Arakanese kingdom which was later toppled by the Burmese in 1784.
Many of them are poor, marginalized and have a long-standing tension with the Myanmar state, which is dominated by ethnic Bamar.
The riot also occurred on the same day that a repatriation agreementwas signed between Myanmar and Bangladesh to return hundreds of thousands of Rohingya Muslim refugees to Rakhine state after they fled a brutal military crackdown last August.
Alongside their animosity for the Myanmar state, ethnic Rakhine reject the Rohingya, who they denounce as illegal immigrants from Bangladesh — despite their living in the predominantly Buddhist Myanmar for generations.