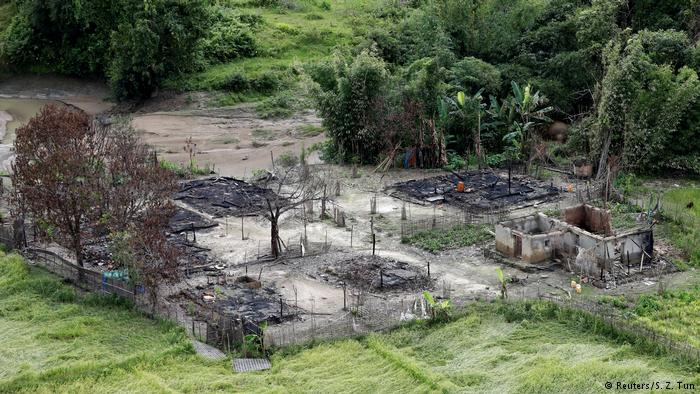 Human Rights Watch slams Myanmar's continued destruction of villages, calls repatriation deal a PR stunt. Separately, two journalists are facing 14 years in prison for violating the country's Official Secrets Act.
As officials from Myanmar were signing a repatriation agreement in late November with Bangladesh for the return of 600,000 Rohingya refugees, the country's military continued to burn down the refugees' villages, according to Human Rights Watch (HRW).
HRW said buildings were destroyed in 40 villages in northern Rakhine state in October and November, raising the total to 354 villages that have been partially or completely destroyed since late August.
"Satellite imagery confirms that dozens of buildings were burned the same week" the agreement was signed, HRW said in a statement.
"The Burmese army's destruction of Rohingya villages within days of signing a refugee repatriation agreement with Bangladesh shows that commitments to safe returns were just a public relations stunt," said Brad Adams, Human Rights Watch's Asia director.
"The satellite imagery shows what the Burmese army denies: that Rohingya villages continue to be destroyed. Burmese government pledges to ensure the safety of returning Rohingya cannot be taken seriously."
At least 630,000 Rohingya have fled a murderous rampage by Myanmar's military, following an August 25 attack by Rohingya insurgents on police and security forces.
Rohingya describe horror
Myanmar's army has rejected accusations of mass rape, beatings, extra-judicial killings and destruction of property by security forces. They have blamed insurgents for the villages' destruction. But they have also referred to the purging of the Rohingya as "clearance operations."
Rohingya refugees arriving in Bangladesh described horror stories of rape, murder and having their homes set alight by soldiers and Buddhist mobs loyal to the government.
Of the latest accusations made by HRW, Zaw Htay, Myanmar's government spokesman, said, "I cannot give comment yet because I have not seen the statement on the satellite images yet."
Sann Win, a border guard police officer in northern Rakhine, maintained that "there was no burning of any villagers' homes in October and November."
The non-governmental organization Doctors Without Borders reported last week that at least 6,700 Rohingya — including 700 children — had been killed in the military's brutal crackdown, which some have described as ethnic cleansing.
In response to international pressure, Aung San Suu Kyi's civilian government signed an agreement with Bangladesh in late November to begin repatriating Rohingya refugees within two months.
Journalists to face trial
President Htin Kyaw, a longtime confidant of de facto leader Aung San Suu Kyi, has approved the arrest of two journalists who are accused of violating the State Secrets Act.
Htay, his spokesman, maintained "the case will be carried out according to the law."
Reuters journalists Wa Lone and Kyaw Soe Oo were arrested December 12 after police accused them of violating the country's Official Secret Act, which is punishable by up to 14 years in prison, for acquiring "important secret papers" from two policemen.
The police officers are also under investigation.