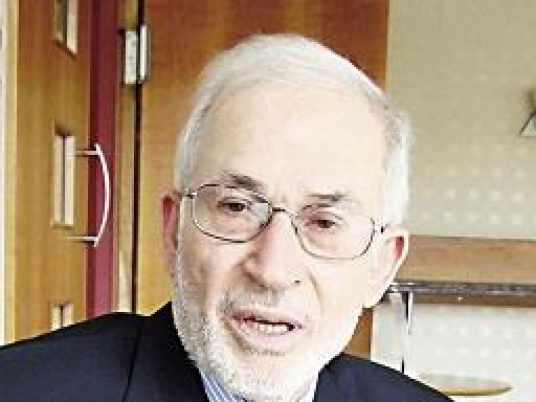 The two parties within the Muslim Brotherhood have continued to exchange accusations following Deputy Supreme Guide Ibrahim Moneir's statement about welcoming negotiations with Egypt's current regime.
Moneir's statement caused a state of great anger among the group, who considered his words shameful.
The Muslim Brotherhood has no problem negotiating with the state because it does not accept the division of the Arab region, Moneir said in an interview on TV channel al-Hewar Tuesday. Moneir called on different conflicting political parties to engage in dialogue and find a political solution to the crisis.
Mamdouh al-Moneir, leader of the dissolved Muslim Brotherhood's Freedom and Justice Party (FJP) described Moneir's statement as shameful and accused him in a statement on Facebook of flirting with western countries and the US.
Young MB member Ahmed Abdel Rahman told Al-Masry Al-Youm that the MB's old leaders are seeking a deal at the expense of the youth in order to stop prosecutions against the group members.
FJP spokesperson Ahmed Ramy said old MB leaders have to step down and stay away from decision-making to make way for the new generation.
News about the sons of group leaders reportedly joining the Islamic State is of great significance and has not been taken seriously enough, especially by the MB leaders, he wrote on his Facebook account.
Kamal Habib, a researcher in the affairs of Islamic movements, said the ongoing debate among the group members about negotiations with the state would lead to wide splits within the MB.
Young group members want to drag the group into a losing battle, he added.
Ahmed Ban, a researcher on Islamist groups, said the coming period will witness the attempt of each party to prove its legitimacy and control over the group.
Edited translation from Al-Masry Al-Youm