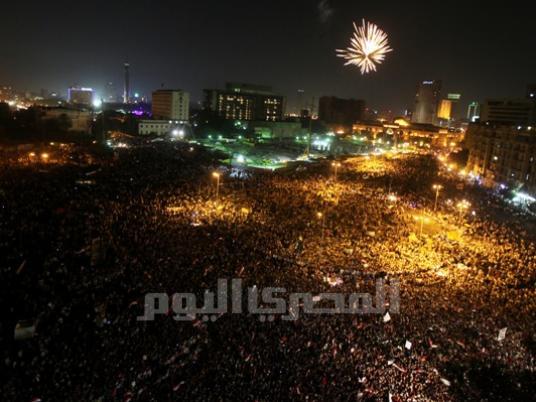 The Muslim Brotherhood called Wednesday on Egyptians to participate in a massive Tahrir Square protest Friday dubbed "The Legitimacy's Return," to denounce the supplement to the Constitutional Declaration and the dissolution of the People's Assembly. The group said it would continue pressing through marches and protests after Friday's protest.
The Brotherhood and its Freedom and Justice Party have been staging large demonstrations since the SCAF issued the declaration Sunday, broadening its own powers and limiting those of the presidency.
Salafi movements announced they would join the demonstration. The Alexandria-based Salafi Dawah said it would mobilize its members in different squares against the the ruling Supreme Council of the Armed Forces' policies. It warned of a new revolution if the SCAF dissolves the current Constituent Assembly, the body tasked with drafting a new constitution.
Tens of thousands continued their protests Wednesday in Tahrir Square against the supplement to the Constitutional Declaration. They raised Egyptian flags and chanted "Down with the military rule," "We are 25 [January] youth," and, "Hold your head up high, you are an Egyptian."
Political forces escalated protests in eight governorates Wednesday evening against the declaration, describing it as a coup.
The Supreme Constitutional Court issued a verdict last week that a law governing parliamentary elections was unconstitutional and the Islamist-dominated People's Assembly must be dissolved. SCAF changes to the law had allowed political parties to field candidates for the one-third of parliamentary seats reserved for independents.
Edited translation from Al-Masry Al-Youm