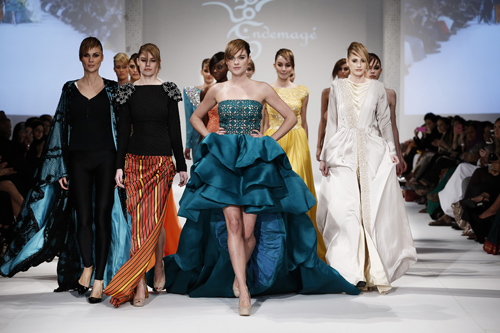 Now in its third year, Oman's annual Muscat Fashion Week last week attracted a host of the region's most talented designers – not only well-established names, but also promising faces of the future.
"This is the beauty of Muscat Fashion Week," said HE Sultan Bin Hamdoon al-Harthi. "There are some incredible undiscovered talents out there who need to be noticed, and we are extremely proud to offer a platform for the next generation of Arab designers."
Showcasing a truly diverse mix of Middle Eastern fashion, this year saw representation from the UAE, Tunisia, Saudi Arabia, Qatar, Morocco and of course, Oman. Attendees viewed the latest collections within the expansive gardens of Riyam Park.
Flying the flag for Oman, Muscat Fashion Week veteran, Nawal al-Hooti, wowed guests as muted grey, deep blue and amber tones were adorned by traditional Omani beading and embroidery. Emirati design duo Reem and Hind Beljafla followed suit with an equally impressive collection of sleek, theatrical shapes in luxurious gold and neutral shades with a pop of bright colours and a multicultural influence.
Glamorous gowns were in abundance when evening-wear designer Tatyana Aceeva's red carpet worthy collection worthy of the red carpet hit the stage. Blush-colored lace dresses flowed beautifully as striking teals and ruby reds broke up the softer hues. Finally, Moroccan designer, Zhor Raîs, brought the day to its glamorous end with long silhouettes in soft creams, olive greens and a dash of yellow, emblazoned with intricate embroidery and cummerbund belts.
Qatar-based demi-couture label, Toujouri, lead the fashion pack as Creative Director, Lama al-Moatessem, lit up the runway with her glamorous designs. Heavily inspired by the work of visual artist cum fine arts photographer, Bea Kayani, the collection was brimming with character and colur. Full-skirted ball gowns with cinched waists sashayed down the runway alongside chic jumpsuits and column dresses, setting the bar high for the evening ahead.
Dynamic design duo, Kanzi offered a sleek, modern collection of abayas, kaftans and flowing dresses with the twist of metal embellishments. Long silhouettes meshed well with fitted jackets that had structured shoulders, with vibrant pops of magenta, pink and turquoise bursting through the black and neutral base pallet.
Razan Alazzouni's star quality shone through as her largely monochrome collection drew a collective nod of approval from the crowd. Voluminous skirts and dresses featured heavily throughout the collection that had spikes of red, lemon and cobalt blue.
On hand to infuse some local spice into the evening were Omani sisters, Dibaj. Khanjar belts and folklore embroidered cuffs and hemlines gave a distinctly traditional feel to the collection that featured an array of rich hues. Pantsuits featured alongside draped dresses and kaftans. Omani gold and silver jewellery finished the collection off perfectly.
Rashmi Kumari, the unstoppable force behind the label, C'est Moi, unveiled an exceptional collection that showed off intricate beadwork and embroidery. Bright and bold colours adorned an array of silhouettes including dreamy flowing dresses that had a luxury Bohemian feel.
Omani sisters Lubna and Nadia al-Zakwani – the creative minds behind the Endemage label – mesmerized the crowd with their forward-looking creations that creatively infuse traditional Omani motifs into the core of their collection.
Ahmed Talfit introduced a sculptural, avant-garde collection with powerful figures for the penultimate show. Leather, silk and tulle meshed together magnificently, with particular emphasis on strong shoulders and accentuated waistlines.