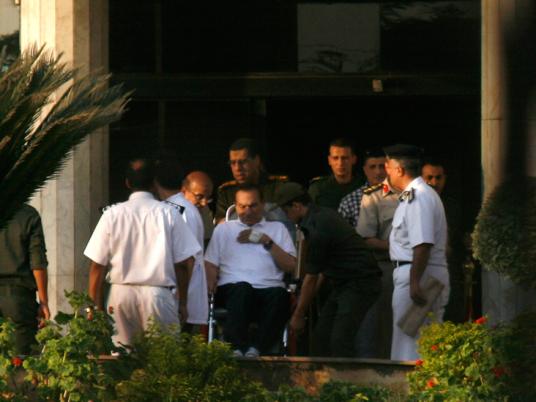 A request has been submitted by the Egyptian Foreign Ministry to extend the freeze placed on the assets of deposed President Hosni Mubarak, his family members and regime officials, according to
Valentin Zellweger, head of international law at the Swiss Foreign Ministry.
The freeze was enacted in February 2011 following the ouster of Mubarak during the 25 January revolution. The new request would extend the current freeze, which ends this February, by two to three years.
Zellweger told Egyptian reporters in Switzerland that the decision, if taken, would be political not criminal, emphasizing Switzerland's unique position to freeze assets.
He added that his country had been cooperating with Egypt in restoring the smuggled assets, demanding information about laws that would facilitate the collaboration.
This cooperation ended in December 2012
, after Public Prosecutor Abdel Meguid Mahmoud was dismissed and replaced by Talaat Abdullah in November by deposed President Mohamed Morsy.The Swiss government could not confirm whether the prosecutor was working independently of Egyptian authorities.
Further cooperation will be determined by the outcome of Egyptian elections in the coming months, Zellweger said.
Zellweger stressed the necessity of accepting the Egyptian judicial verdict regarding Mubarak, even if it would lead to restoration of stolen assets, noting Switzerland's commitment to legal authority.
He added that the Egyptian issue is addressed by every country primarily through justice ministries, while Switzerland also uses the resources of its Foreign Ministry and federal prosecutor. Zellweger referred to several cases in which the Swiss government cooperated with countries from which assets were smuggled like the Philippines and Peru.
Switzerland may pass a law this coming spring allowing the political freezing of illegal assets, according to Zellweger. It will be applicable to the case if approved, as it allows freezing whether the regime was toppled by a revolution or coup.
Mubarak's lawyer refused the proposal for Swiss authorities to inform Egypt about the outcome of their investigations on the assets.
If Mubarak's lawyer filed a lawsuit in Switzerland, he would win it and then restore all the frozen assets.
Edited translation from Al-Masry Al-Youm