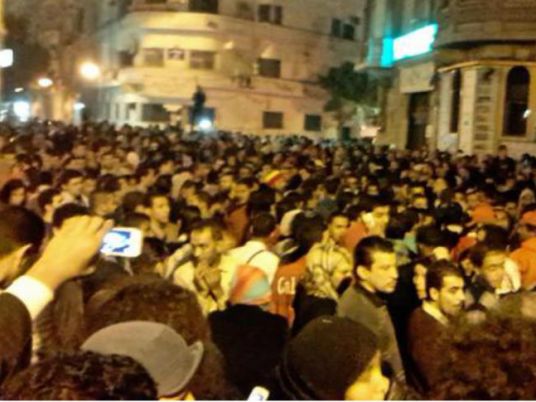 An Egytian appeals court has adjourned to November 3 the retrial of former President Hosni Mubarak on charges of ordering the killing of protesters during the 2011 uprising.
The court, which met at the High Court building in downtown Cairo, issued the adjournment on Thursday in order to find a more suitable place for the trial.
Mubarak faces a second and final retrial over the killing of protesters during the 2011 uprising that ended his 30-year rule. Hundreds of people died during clashes with security forces in the weeks before Mubarak was forced from power.
Mubarak, 87, was originally sentenced to life in prison in 2012 for conspiring to murder 239 demonstrators, sowing chaos and creating a security vacuum during an 18-day revolt, which began on January 25, 2011. However, an appeals court ordered a retrial.
In that retrial, in November 2014, an Egyptian court dropped its case against Mubarak, but the Public Prosecution appealed the decision.
Judge Anwar Gabri accepted the prosecution's appeal and said Mubarak would be tried again on November 5, 2015, this time at the High Court building in Cairo. That session was then adjourned to April 7 this year, so that security services could ensure a safe location for the trial to take place, bearing in mind that Mubarak is required by law to attend the trial.
Mubarak's lawyer also requested the adjournment in November on the basis of the former president's alleged ill-health, which he said complicates transportation to and from the court building, which is located in the busy center of the Egyptian capital.
Earlier this week, the Interior Ministry sent a letter to the appeals court saying that it could not provide a more secure venue for the trial than the High Court building or the Police Academy. The court rejected the Police Academy as a potential venue and demanded a further alternative, opting for the High Court for Thursday's session.
However, Mubarak did not attend Thursday's session, with the court ruling on a further adjournment in his absence.
Mubarak's lawyer Farid al-Deeb said it was impossible to transfer Mubarak to the High Court by helicopter because the area does not have a suitable landing area. He said that due to Mubarak's poor health condition he could not be transferred to court by ambulance.