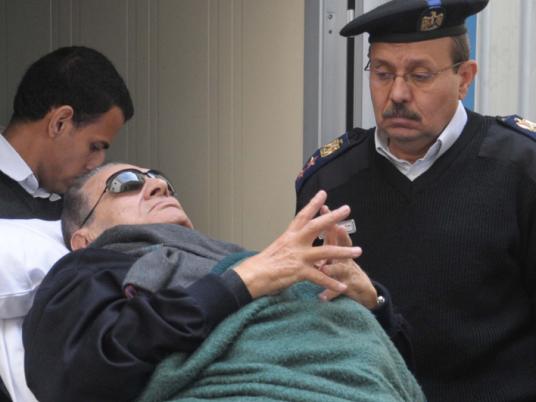 Egypt's former President Hosni Mubarak and other defendants have arrived at the Police Academy in New Cairo, where the Cairo Criminal Court is resuming the trial of Mubarak, his two sons and other former officials for charges of murder and corruption.
Mubarak, former Interior Minister Habib al-Adly and six of Adly's assistants are charged with involvement in killing protesters during the 25 January revolution, while Mubarak, his sons Alaa and Gamal and businessman Hussein Salem are being tried on corruption charges. Adly was convicted of money laundering and fraud in May 2011.
Dozens of martyrs' families rallied outside the court building, chanting demands for the application of the death penalty and for faster trials.
Today the court is listening to the case of the plaintiffs' lawyers, who are representing the families of protesters killed during the 18-day uprising. Syndicate President Sameh Ashour delivered the opening argument, according to state-run news agency MENA.
Ashour demanded the severest penalty for Mubarak, Adly and the six aides accused of killing protesters. Independent daily Al-Shorouk reports on its website that the most severe penalty is a death sentence.
Over the past three sessions, the prosecutor has demanded the death penalty for the ousted Egyptian leader and the former interior minister over charges of ordering the killing of protesters.
On Saturday, the plaintiffs' lawyers held a meeting at the Lawyers Syndicate, chaired by Ashour, to determine their strategy.
The syndicate was tasked with choosing eight lawyers to take the lead in arguing the case, but legal experts speaking to Al-Masry Al-Youm predicted disputes between the lawyers given the large number of attorneys eager to take part in the case and that the court granted the plaintiffs only two days to make their arguments.
The court will also listen to a case presented by lawyers from the State Litigation Authority, a judicial body that represents the state in courts, who will provide additional evidence against the defendants.