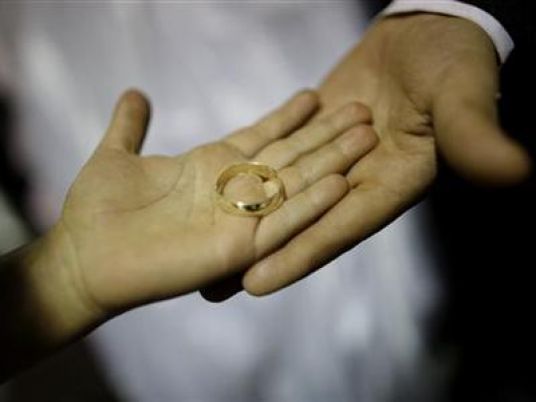 Husbands who are getting married without the first wife's knowledge recently will face imprisonment along with the authorized person (Maazoun) if the first wife was not informed, according to MP Hala Aboul Saad, a member of the House of Representatives, adding that she submitted a new bill to speaker of the House of Representatives. 
After adding this new bill to the speaker of the House of Representatives she went on to explain during a telephone interview on Sada al-Balad channel, Wednesday, that she reviewed the laws related to that case, most notably Law 129, which was previously amended twice.
An amendment to the law in 2005 required the husband to acknowledge in the marriage document his marital status and to indicate the names of his wives and their place of residence, but there was no provision for the punishment of the husband if he did not inform the first wife, she said.
She added that some husbands circumvented the law with the help of some authorized marriage officials by placing a wrong address for the first wife or omitting her name.
Aboul Saad stressed the need to inform the first wife of the second marriage before heading to the Maazoun, adding that if the husband has not informed the first wife, the Maazoun must notify her.
She pointed out that a punishment for the husband and the Maazon is stipulated in the bill if the first wife is not notified.
The husband will be penalized with a prison sentence of a period of no less than one year and not exceeding three years, while the Maazoun is to be imprisoned for a period of one year with  a fine of LE20,000.