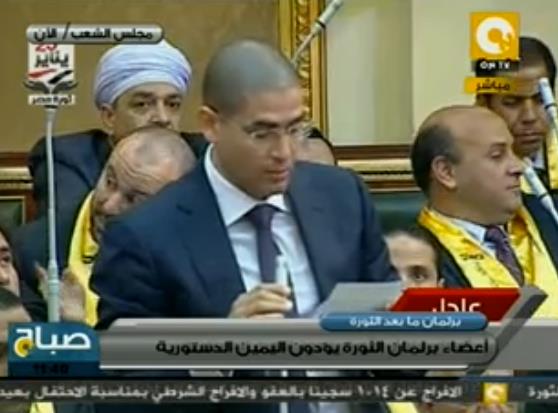 MP Mohamed Abou Hamed, one of the founders of the newly-established Lives of the Egyptians Party, warned that the Muslim Brotherhood is as dangerous as the dissolved National Democratic Party.
He revealed in a statement Wednesday that he has filed a number of lawsuits demanding the dissolution of the Constituent Assembly, and called on the Supreme Council of Armed Forces to issue a complementary Constitutional Declaration outlining the assembly's makeup to preserve the secular identity of the state.
Abou Hamed said that the list of Constituent Assembly members is frustrating and disappointing, especially since over 67 of its members are self-identified political Islamists, most either Muslim Brothers or Salafis. He warned that this will damage Egyptian identity, freedoms and citizenship, and will affect the country negatively in the future.
He called for all people to reject the second incarnation of the Constituent Assembly in the same way that the first was "overthrown."
"The battle now is the battle of all people, not only the political forces," he said, calling on pro-democracy members of the assembly to withdraw from it so it will lose legitimacy.
Abou Hamed also posted on Twitter that more than 62 percent of the 100 seats in the Constituent Assembly belong to the Brotherhood and the Salafis, enabling them to control the assembly, which he said was "sectarian and does not reflect the people."
The MP stressed that the people should focus on the battle over the constitution, not the presidency, adding, "Egypt is Egyptian, not for the Muslim Brotherhood."
"The Brotherhood is no less dangerous than the [formerly ruling] NDP," he said, warning them against trying to dominate the country. "The revolution did not happen so the Brotherhood could inherit Egypt."
Abou Hamed rejected the Muslim Brotherhood's candidate for president, saying, "I am against Mohamed Morsy winning the presidency. Down with the rule of the supreme guide of the Muslim Brotherhood."