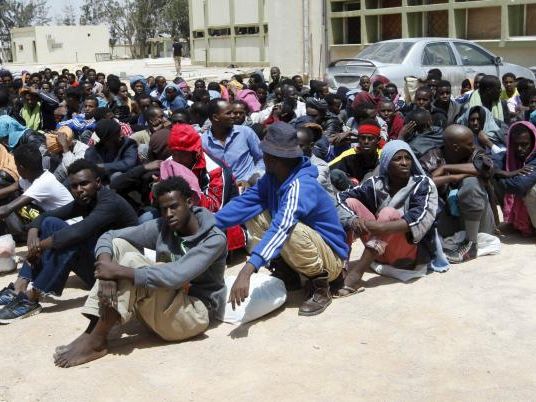 MP Essam al-Omda, a member of the Defense and National Security Committee in the House of Representatives from the Abnoub district in Assiut Governorate, submitted an urgent statement to the ministers of foreign affairs and immigration regarding the detention of 250 Egyptians from Assiut in an illegal immigrant center in Libya.
Omda said in his statement to the Speaker of the House of Representatives on Tuesday that approximately 250 young people, incluuding 200 from Abnoub, traveled to Libya on June 5 for work.
They are now detained in a center for illegal immigrants, he continued. 
On June 21, social networking sites published that the Egyptian Consulate contacted the Illegal Immigration Gathering Center and registered the workers' numbers in preparation for their deportation.
Since then, nothing has been heard of them, and they have not returned home. Omda added that the Foreign Ministry has failed to give an explicit answer as to their whereabouts.
Back in April, Egyptian Prime Minister Mostafa Madbouly announced the signing of an MoU between Egypt and Libya to facilitate the return of Egyptian workers to Libya.
Madbouly said that workers will be able to work in the fields specified and requested by Libya.
Before the 2011 uprising that eventually led to the end of Muammar Gaddafi's regime, millions of Egyptians, mostly from Upper Egypt and other rural areas, worked in Libya.
The country is known for its harsh detention of migrants and asylum seekers. Human rights groups and aid organizations have accused the centers of committing torture, extortion, and murder.
__
IMAGE: Migrants wait to be transported to an immigration centre in the coastal city of Misrata, Libya, May 9, 2015.