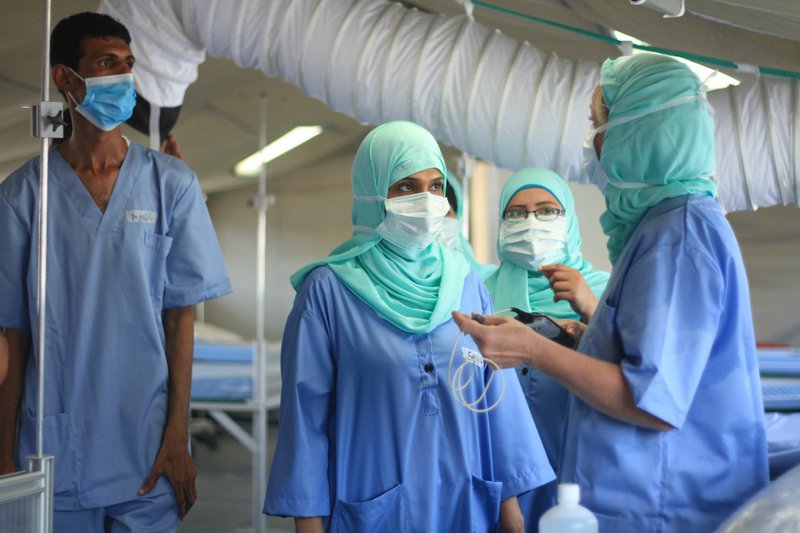 Sharqiya Governorate's MP elect el-Sayed Rahmo announced that the death of five coronavirus patients at a hospital in Sharqiya on Sunday was due to the hospital's negligence and a lack of oxygen supplies.
Rahmo revealed details behind the viral video that shows motionless COVID-19 patients inside Husseiniya Central Hospital who allegedly died due to a lack of oxygen tanks.
Rahmo stressed in a statement to Al-Masry Al-Youm that the five patients who died, did so as a result of staff negligence at the hospital, namely the mismanagement of the oxygen deficiency crisis.
He denied the statement of the hospital's director, refuting his claim that only four people died and there was sufficient oxygen supplies at the time.
Rahmo said that it was illogical that five patients die at the same time in one place without negligence.
He added, "I have information that the intensive care doctor informed the hospital director in sufficient time, at least an hour, about the lack of oxygen. But the manager was negligent and the transfer of oxygen cylinders took too long, leading to deaths."
The MP stated that until he is sworn in on January 10, he is not able to officially follow up with government agencies on this incident. However, he assured that the negligent would be held accountable.
He concluded: "Denying any lack of oxygen is a disaster. We have to confront and acknowledge the crisis, not deny it, so that this tragedy will not be repeated."
The governor of Sharqiya Mamdouh Ghorab downplayed the incident, stating that the four deaths at the hospital were a result of preexisting chronic health conditions and not the hospital's failing.
Egypt's Minister of Health Hala Zayed also assured that sufficient stocks of medical oxygen are available in all hospitals receiving coronavirus patients across the country, adding that the state spares no effort in preserving the health of citizens.
But families of the victims believe otherwise. One man, whose 44 year-old father passed away at the hospital on Saturday, came forward stating that his father had no preexisting medical conditions and was in good health.
Egypt's second wave of the virus continues, with 1,309 new cases and 64 deaths reported on Sunday.
Health officials have stated that the country's actual figures are roughly ten times higher than what is reported, due to testing accessibility and the exclusion of private hospitals in the daily count.