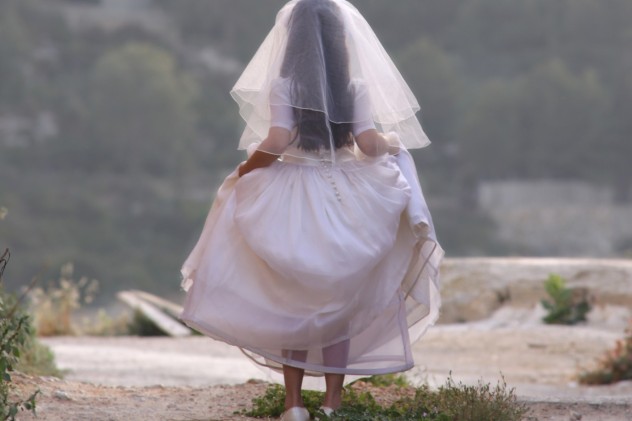 A recent draft law, proposed by MP Ahmed Samih, to lower the minimum legal marriage age for girls from 18 years down to 16, has resulted in massive criticism over young girls' physical health and consequent marginalization in society.
"This draft law would only decriminalize a rampant phenomenon in Egypt's countryside, and help girls who marry at 16, nonetheless, obtain their legal rights," Samih, an independent MP representing the Giza district of al-Talbiya, said.
Indicators prove that 80 percent of girls aged 16 in rural and heavily populated urban districts marry with parental consent, even though they are aware that this marriage is illegal, said Samih, adding that his draft law aims to solve various problems that girls face marrying at a young age.
Despite international agreements and national laws, underage marriage is common worldwide and affects millions of girls, both physically and psychologically.
In Egypt, nearly 36 percent of marriages in remote areas and southern Egypt include a partner under the age of 18, according to studies by the National Council for Women.
Another study conducted in May by the International Population Council revealed that about 600,000 women in Upper Egypt were married before they reached 18 – the legal age of consent.
Nahla Abdel Tawab, a representative of the International Population Council who contributed to this study told Egypt Independent that child marriage is a human rights violation that prevents girls from obtaining an education, enjoying optimal health, bonding with others their own age, maturing, and ultimately choosing their own life partners.
"Child marriage often has devastating consequences on a girl's health. Our study showed that it can increase risk for sexually transmitted diseases, cervical cancer and even death during childbirth," she said.
Poverty plays a central role in the prevalence of child brides. Parents want to ensure their daughters' financial security; so they send them off to be married to ease the family's economic burdens, curtailing their freedom and depriving them off their fundamental rights to health, education and safety, Abdel Tawab added.
Gynecologist, Marwa Hassan, explained to Egypt Independent that once married, girls can face intense social pressure to prove their fertility.
"Often married to older husbands, it can be extremely difficult for girls to assert their needs, particularly when it comes to negotiating safe sexual practices and the use of family planning methods," Hassan said.
She further explained that sexual practices at a young age are extremely harmful, as it encourages the initiation of sexual activity at an age when girls' bodies are still developing, and at a time when they know little about their rights or their sexual and reproductive health.
"Neither physically or emotionally ready to give birth, child brides face higher risks of death in childbirth and are particularly vulnerable to pregnancy-related injuries such as obstetric fistula," she said.
The Egyptian National Council for Women described in statement on Friday the newly proposed bill as "backwards", and is one that "would lead to a regression in the rights attained by women, and would delay the achievement of desired development in the country."
"It impedes all efforts by the state to overcome the problem of the population explosion, and to prevent early marriage, and it does not guarantee the rights of women to complete their studies and choose their life partner," read the statement.
It also pointed to "the impact of [early marriage] on the health of women and children and hence society" and said it would contribute to "the marginalisation of the role of women in the development process, and public affairs."
Abdel Tawab and Hassan agreed that education and awareness are key stop the "dangerous" phenomena from increasing.
"Policies and programs must educate communities, raise awareness, engage local and religious leaders, involve parents, and empower girls through education and employment," Hassan said.