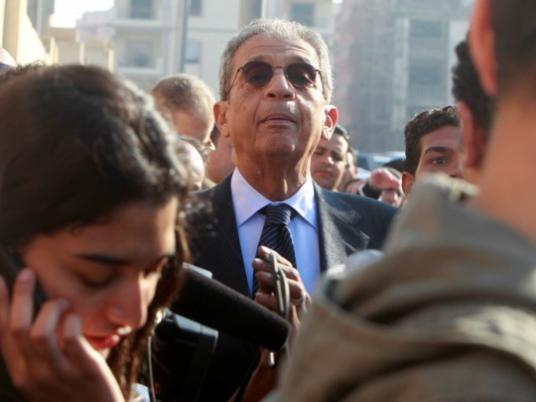 Presidential hopeful Amr Moussa warned of conspiracies seeking to hijack the revolution, and called on people to protect it and to work on achieving its objectives.
Speaking at a public rally in the Red Sea Governorate, Moussa criticized the provisions in the Constitutional Declaration that protect the committee supervising the presidential election from appeals of its decisions.
The controversial provision is Article 28 of the declaration, issued in March last year, which established a judicial committee called the Presidential Elections Commission to supervise the election.
"Article 28 is part of a plan to impose a particular candidate as president of Egypt, to have his name announced and then prevent any appeal against [the decision]. There seems to be an intention to do that and I believe the article is unfair and inappropriate," said Moussa, a veteran Egyptian diplomat who was foreign minister under ousted leader Hosni Mubarak.
Moussa fears that the article will make it easier for Egypt's military rulers to rig the election in favor of Mansour Hassan, the head of their Advisory Council and a culture and information minister under late President Anwar Sadat.
Hassan announced his candidacy last week. He has the support of a number of political parties and may be officially endorsed by the Muslim Brotherhood's powerful Freedom and Justice Party (FJP), which controls 51 percent of Parliament.
Egypt's presidential race kicked off on Saturday, when hopefuls could begin registering their candidacy.
Candidates must be endorsed by at least 30 MPs or 30,000 eligible voters for the landmark election on 23 May.
Moussa said that the people will not allow the presidential elections to be manipulated as they were under the former regime, adding that the new state should establish social justice as the basis of the system.
He warned that Egypt will bankrupt itself if reconstruction does not start as soon as a president who knows how to communicate with other countries and defend Egypt's interests is elected.
The country has been spending US$2 billion per month of its foreign reserves since October to prop up its currency. Reserves, less than half of what they were before the uprising, now stand at a worryingly low $16 billion, including $4 billion in gold bullion the government would be loath to draw on.
Egypt has requested a $3.2 billion IMF accord to help it head off a looming crisis.
"The mismanagement of the country under the former regime caused great and deep disorder, especially during the last decade," Moussa said.
He said that Egypt lost its ambition during those years and declined on all levels and in all fields.
Another front runner in the presidential race is Abdel Moneim Abul Fotouh, a former member of the Muslim Brotherhood. Other candidates include Ahmad Shafiq, the last prime minister to serve under Mubarak, as well as Salafi leader Hazem Salah Abu Ismail, Nasserist Hamdeen Sabbahi and independent Islamist Mohamed Selim al-Awa.