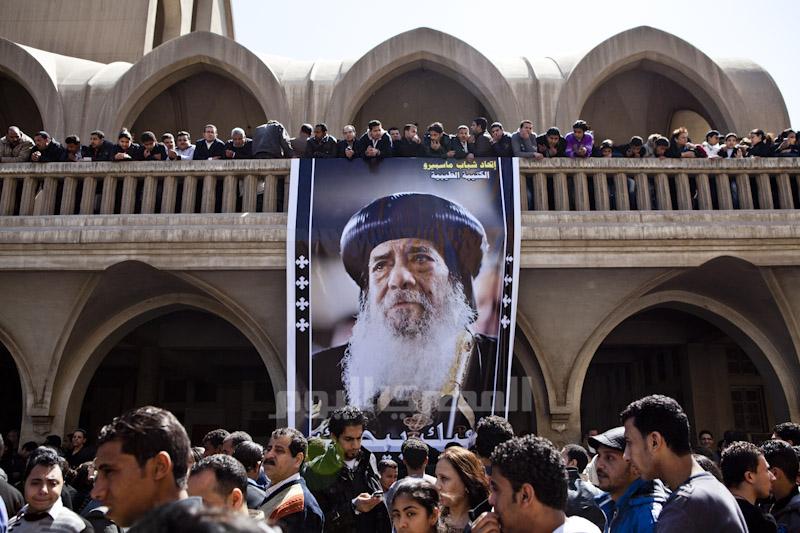 Thousands of grief-stricken mourners flocked to Abbasseya Cathedral on Saturday night to pay their last respects to Coptic Pope Shenouda III of Alexandria.
The mourners — traveling from governorates around Egypt and from abroad — gathered en masse waiting to get through the narrow cathedral gates. Many men showed tattoos of crosses on their wrists to be allowed swift entry. Others tried to force a line for women to enter.
Amid the chaos, tempers momentarily flared, but were quickly put out.
"Don't forget you're here to pay your respects. And not just to anyone," one teen told his friend, who was yelling at the gatekeepers to let them in.
Pope Shenouda's body is currently on display, sitting in the Mar Morqos throne inside the cathedral. Mass was held on Sunday morning in the presence of the body. Prayers were conducted by Bishop Pachomious and most of the Holy Synod's priests attended.
Some on Saturday night did not notice the lines or the pushing, and were more consumed with grief at the passing of a figure they considered to be touched by God.
"After God, for me, there was Pope Shenouda," said Soad Khairy, a 52-year-old woman. "This is the worst day of my life."
For many Copts their relationship with Pope Shenouda went beyond that of a man of God to his community. Many arrived at the church to express grief usually reserved for a close family member.
"His tenderness and kindness will not be compensated. He was more than a father. It's like losing your sense of security," Heba al-Saeed, who came to the funeral with her 3-year-old daughter.
While the church's Millet Council, the secular body responsible for church administrative matters, has yet to announce its plans for the future, many of the Coptic mourners reflected on the late pope's role as a unifying force and anchor for both the Coptic community and Egypt during times of sectarian tension.
"This is a huge shock. His presence for [the Coptic] community is like the presence of a father in his household. He was the only one able to bring order," said Samuel Sobhy, 29.
An activist himself, Sobhy believes that Pope Shenouda was able to direct the angst and quell the anger of the community in the aftermath of recent tragedies such as the Maspero violence on 9 October, when 27 people died in violence during a mostly Coptic protest.
Mourners said that Shenouda was the only man able to shepherd the community through the difficulties of escalating incidents of discrimination and anti-Coptic violence recently.
"He was an example of peace for everyone. Many here will see him as Gandhi, a man of God who uses his godliness for the good of man. He had the rare gift of being able to transmit these concepts to simple people," said Hany, a physician who didn't give his last name.
This example, many believe, will be difficult to emulate.
"No one can ever make up for Pope Shenouda's loss. God help us for the coming period," said 55-year-old Sameer Ramzy.
Most mourners expressed apprehension for the future due to a growing sense of insecurity in the Coptic community as a result of the rising sectarian tension. Others expressed apprehension for different reasons.
"I'm afraid of divisions within the church. No one can unify us like Pope Shenouda did," Sobhy said.
Hany, a self-described secularist, believes that part of Shenouda's legend will also stem from the fact that he was head of the church during trying times for the community, and was able to maintain himself as a man of God.
Most present believed that it was his ability to lead by example that made him loved.
"The pope used to always say, 'Any blow to the back that does not break it, makes it stronger," said Ahmed Hassan, who came representing Al-Azhar and the Religious Endowments Ministry.
For the tearful faithful at the cathedral, the political role and future of the church will not make up for the death of someone who many considered their link to God.
"He didn't play any roles, political or otherwise. He was just a man of God and a pillar of our religion. Of course now we'll all feel unstable. This is the worst thing that could have happened," said Ramzy.