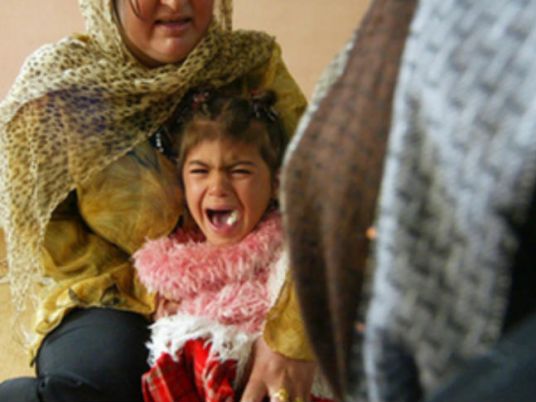 Suez Misdemeanor Court canceled on Saturday an earlier ruling to release on bail a mother accused of subjecting her daughter to a female genital mutilation (FGM) procedure that proved fatal.
The court ruled that the mother be remanded 15 days more in custody, repealing the decision of Thursday to release her on bail of 10,000 LE while investigations continued.
The prosecutor brought charges against the mother and two doctors after an operation on a girl that led to her death last month.
The mother has denied subjecting her daughter to a circumcision operation, saying that she underwent surgery to remove a sebaceous cyst. But according to police investigations, evidence suggests that the victim and her twin sister were made to undergo genital mutilation procedures, following which one child died of blood loss.
The prosecutor has ordered for a forensic report to be compiled, and a medical examination of the surviving sister to be carried out.
An arrest warrant has been issued for the 60-year-old female doctor who conducted the operation.
Suez governor Ahmed al-Hayatmy has ordered the closure of the private hospital where the operation took place on Sunday, May 29.
Two days later, the United Nations and UNICEF offices both condemned the incident and called for a review of current legislation on FGM and the enforcement of the law to ensure the full protection of the rights of women in Egypt. Both organizations called for the perpetrators to be put on trial.
In a statement issued after the child's death, the National Council for Childhood and Motherhood also condemned the death of the victim in Suez, calling on the attorney general to initiate investigations into the incident. The council stressed the importance of the role of civil society organizations and the media in raising awareness of children's rights and of the dangers of the harmful practice of FGM. It called for the enforcement of the Child Law and the Penal Code.
FGM is a widespread practice in Egypt, found especially in Upper Egypt and other rural areas of the country.
A report issued by UNICEF on May 2 stated that 100 million cases of FGM were conducted in Egypt, Indonesia, and Ethiopia in 2015. Of the three countries, Egypt had the highest number of cases, according to the report.
Edited translation from Al-Masry Al-Youm