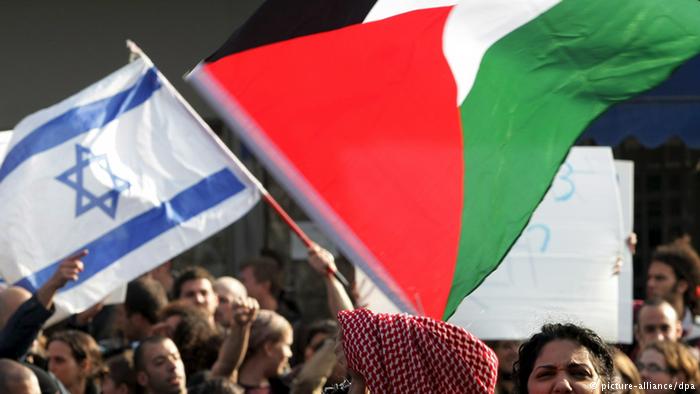 Only minorities of Israeli Jews and Palestinians support a two-state solution, according to a new survey. Among Israeli Arabs, support remains stable and very high.
A survey released on Monday that tested aspects of a permanent peace deal showed a decline in support for a two-state solution in the Middle East. The study — conducted by Tel Aviv University and the Palestinian Center for Policy and Survey Research — was partly funded by the European Union.
Among both Palestinians and Israeli Jews, support for a two-state solution dropped to 43 percent from December 2017 — an eight-point decline among Palestinians and nine points among Israeli Jews since June 2016. Among Israeli Arabs, support remains stable and very high, at 82 percent.
German government spokesperson Steffen Seibert said last year that a two-state solution was the foundation of Germany's Middle East policy.
Feasibility doubts
The survey suggests the reasons for the decline in support for a two-state solution are doubts over its implementation and a lack of trust in the other side. Palestinians and Israelis are both divided almost equally about whether a two-state solution is still possible, or whether settlements have expanded too much to make it viable.
Among all Israelis, nearly half (48 percent) believes the two-state solution is still viable while 45 percent think settlements have spread too much for it to be viable. Israeli Arabs remain highly optimistic, with 64 percent thinking this solution remains viable, compared with only 44 percent of Israeli Jews.
Mutual distrust
A quarter of Israeli Jews trust Palestinians and only 11 percent of Palestinians trust Israeli Jews, according to the survey. It shows only 35 percent of Israeli Jews and 39 percent of Palestinians think the majority on the other side wants peace.
The poll, conducted in June and July, interviewed 2,150 Palestinians and 1,600 Israelis. Its margin of error was 2.5 percentage points for the Palestinians and 3 percentage points for the Israelis.