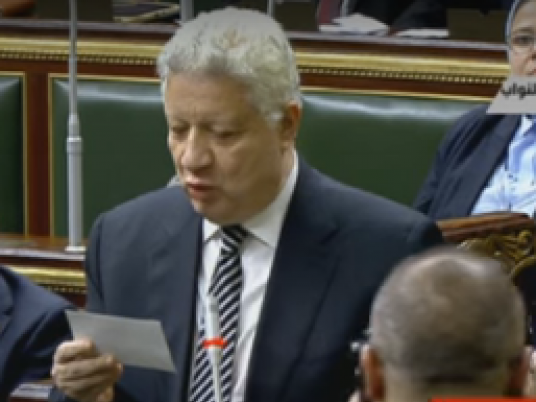 Zamalek Sports Club president and elected MP Mortada Mansour altered the constitutional oath during the inaugural session of the House of Representatives, citing his rejection of the Constitution's recognition of the 2011 uprising.
"I am not going to pledge respect to the whole Constitution, just its clauses. As for the preamble, I am not going to take oath on (respecting) it because I do not recognize January 25 (2011) as a revolution," Mansour, an influential lawyer known of his fiery rhetoric, said in reference to the 2011 protests that ousted former President Hosni Mubarak.
"It was an uprising that only brought the Muslim Brotherhood to power; a conspiracy against the country," Mansour, an ardent opponent to the Brotherhood, told Al-Masry Al-Youm. "June 30 (2013) is the real revolution," Mansour said, referring to the protests that ousted the Brotherhood's government and brought incumbent President Abdel Fattah al-Sisi to power.
Mansour, instead of pledging to "respect the constitution" as written in the constitutional script, recited the oath so as to respect "clauses" of the Constitution, thus avoiding commitment to the preamble which establishes the 2011 and 2013 uprisings as basis for the creation of the document.
Fouad Abdel Naby, a professor of constitutional law, told Al-Masry Al-Youm that Mansour's action was "a violation of the Constitution." He added that changes Mansour made while reciting the script of the oath was " a circumvention" of the document and "disrespect to the preamble that is a part and parcel of the Constitution."
Mansour was among defendants affiliated with the Mubarak regime who were accused of orchestrating a mob attack on anti-regime protesters during the 2011 uprising in Cairo's Tahrir Square. He, however, was found innocent in 2013.
Edited translation from Al-Masry Al-Youm