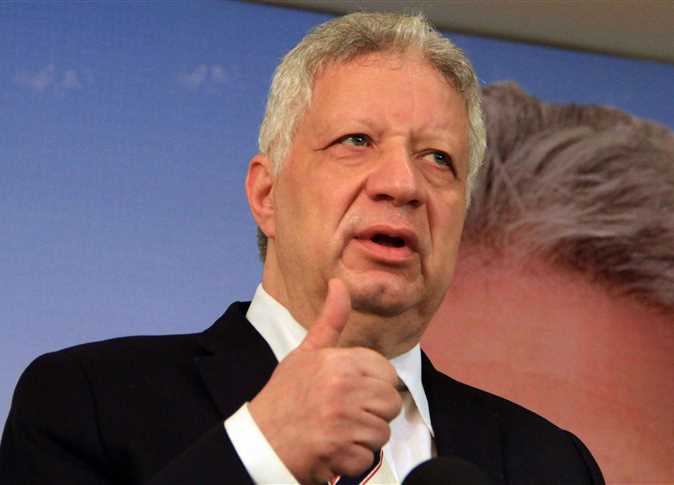 The President of Zamalek Club Mortada Mansour filed a lawsuit on Saturday with the Administrative Court of the State Council to appeal against a decision by the Egyptian Olympic Committee to suspend him for four years with an LE100,000 fine.
Mansour also demanded in the Saturday lawsuit the suspension of the Egyptian Olympic Committee's decision which obliges the club's management to call for a general assembly to elect a new club president to replace Mansour.
The lawsuit was filed against the Minister of Youth and Sports, the Executive Director of the Ministry of Youth and Sports, and the head of the Egyptian Olympic Committee.
The Egyptian Olympic Committee said earlier that its decision entails not approving Mansour's representation of the Zamalek Sports Club's affairs at the judiciary, nor can he assume presidency of any meetings or general assemblies for the suspension's duration.
His signature will also no longer be counted for any procedure or correspondence regarding the Zamalek club, especially regarding financial issues or authorization thereof.
The committee also decided to file a case with the Public Prosecution regarding incidents noted in the committee's investigations – which constitute a criminal offense – in order to take the due procedures.
The committee decided last week that the Vice-Chairman of the Board of Directors of the Zamalek Sports Club and the rest of the board's members must discuss, during the first ordinary general assembly, elections to fill the now vacant seat of the Chairman of the Board of Directors, which has been held by Mansour.
And it has further tapped the Supreme Council for Media Regulation to take action against the Zamalek satellite channel over broadcasting offensive discourse that violates the Media Honor Charter.
These violations are a flagrant breach of the Egyptian constitution and international laws and charters and demolishes sporting values, the committee added.
Tensions between Al-Ahly and Zamalek club leaders had reached a high when, back in October 2019 the Al-Ahly Sporting Club addressed the Chief of the Presidential Staff, the Public Prosecutor, the Prime Minister, the Speaker of the House of Representatives, and the Interior Minister, calling on them to intervene to deter Zamalek president Mortada Mansour from "spreading lies" and defaming the family of Mahmoud al-Khatib, chairman of Ahly.
In a statement published on its official page on Facebook, Ahly said that its administration and fans have "reached their limit" regarding the offenses of the President of Zamalek.
Ahly said in a statement that Mansour is now defaming families and spreading lies through phone-ins with satellite channels.