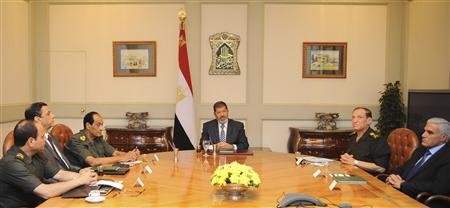 President Mohamed Morsy visited Arish, North Sinai on Monday night to offer his condolences to Egyptian soldiers stationed at the border. He vowed to avenge the deaths of the 16 soldiers killed in Sunday night's attack.
Morsy was accompanied by Field Marshal Hussein Tantawi, Interior Minister Ahmed Gamal Eddin and intelligence head Mourad Mowafy.
Morsy visited a battalion near the Arish airport than addressed a battalion near the headquarters of the governorate. He told the soldiers that Tantawi has issued orders to avenge the deaths of their brothers-in-arms and to secure the border area. He added that they had issued instructions to counter attacks on security forces.
Presidential spokesperson Yasser Ali said that Morsy came to monitor the search for the attackers and assured that they will be found and punished. He added that Morsy met with security heads in the area to discuss tightening control and eliminating criminal activity.
US Ambassador to Egypt Anne Patterson released a statement condemning the incident and expressing her condolences to the victims, their relatives, President Morsy and the Egyptian people. Patterson added that she hopes the perpetrators of this "cowardly" act will be brought to justice.
Edited translation from Al-Masry Al-Youm