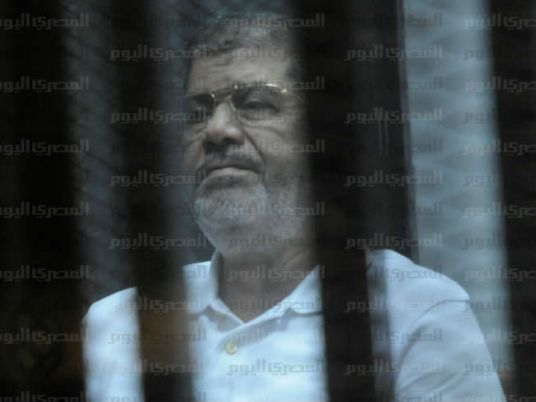 Cairo Criminal Court has sentenced former President Mohamed Morsy to life in prison for spying for Qatar, along with the head of his presidential office Ahmed Abdel Aaty and personal secretary Amin al-Serafy.
Morsy and 10 others were accused of leaking classified national intelligence to the Qatari intelligence service. Egypt's top prosecutor referred all 11 for trial in September of last year.
In passing sentence on Saturday, the court also handed Morsy and two others an additional 15 years on related charges, while sentencing broadcast journalist Khaled Radwan to 15 years of rigorous imprisonment and a US$10,000 fine.
Five men (Ahmed Afify, Mohamed Kilany, Karima Amin al-Serafy, Alaa Sablan and Ibrahim Helal) were also sentenced to 15 years of rigorous imprisonment, along with one woman (Asmaa al-Khatib).
All of the sentences handed down on Saturday can be appealed.
Meanwhile, the court cleared Morsy, Abdel Aaty, Kilany, Khatib, Amin al-Serafy and his daughter, Hamdy Radwan, of the first accusation included in the indictment.
The court also ordered the confiscation of computers, documents and CDs containing any information related to national security, ordering that they should be submitted to the armed forces.
The session on Saturday was attended by large numbers of journalists, while the defendents were led into the courtroom and placed in a cage. Morsy flashed the "Rabaa salute" to photographers before the sentences were read out.
The trail is the fifth for the former president, who has already been convicted on charges including espionage, inciting the killing of protesters, insulting the judiciary and escaping from prison during the January 2011 uprising. His various sentences are still being appealed.
Egypt-Qatar ties have been strained since Morsi's removal from power, with Egyptian authorities accusing Qatar and its news organization Al-Jazeera of seeking to undermine Egyptian national security.