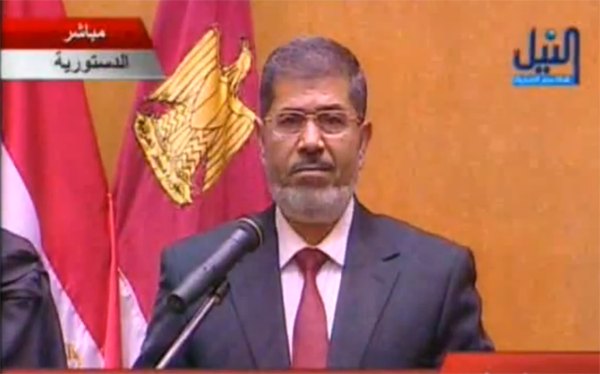 Egyptian President Mohamed Morsy told a Saudi newspaper that the security of the Gulf states is inviolable, reiterating earlier assurances to Gulf kingdoms wary of the Muslim Brotherhood's political rise following the removal of former President Hosni Mubarak, a key regional ally for Gulf monarchs.
"For Egypt, Gulf security is a red line," Morsy told the Saudi paper Okaz in statements published on Tuesday, one day before heading to Saudi Arabia in his first foreign visit since election.
Morsy stressed the strength of Egyptian-Saudi ties, adding that the Arab and Islamic world derive their strength from those two countries.
During his visit, Morsy is scheduled to meet with King Abdullah bin Abdul Aziz, and Crown Prince Salman bin Abdul Aziz. He will also perform Umra pilgrimage rituals.
The visit follows tensions between the two countries that flared in April after the arrest of Egyptian lawyer Ahmed al-Gizawy, whom Saudi authorities accused of smuggling narcotics to the kingdom, while Egyptian activists believe he was arrested for having criticized the Saudi king.
Saudi Arabia contributes with the biggest share of Arab investments in Egypt. The bilateral trade between both states stands at nearly US$5 billion according to 2011 estimates.