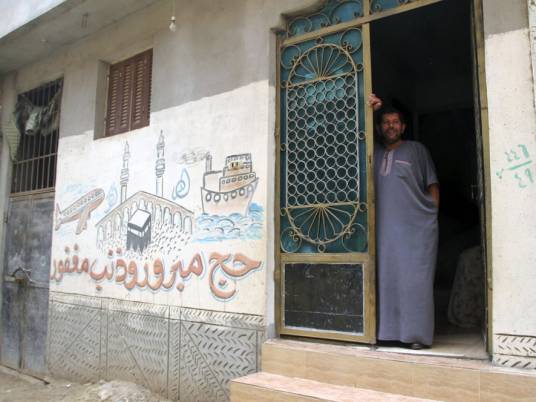 Even though they ousted his brother from office, Sayed Morsy does not have a bad word to say about Egypt's military.
"I have boundless confidence in the army," Sayed said, sitting in his sparse, drafty house, a picture of deposed President Mohamed Morsy hanging on the wall next to a framed verse from the Quran.
"I have patience. He does too," he told Reuters, referring to his elder brother. "He taught me that when someone makes you mad, don't antagonize them, you don't respond with anger."
Views in the Morsy family's home village of al-Adwa reflect how many Egyptians feel about their military: its generals are fallible but as an institution it can bring a degree of stability and security to a country weary of political chaos.
The rice paddies, corn fields and dirt roads of al-Adwa feel a world away from the clogged, polluted streets of Cairo. But the Nile Delta village where the Morsy brothers grew up is less than two hours' drive from the capital.
Mohamed Morsy, the talented son of a peasant farmer, studied in Cairo and Los Angeles before rising through the ranks of the Muslim Brotherhood to become Egypt's first freely-elected president last year – until the army removed him on 3 July.
Two of his brothers, Saeed and Sayed, still live in al-Adwa. While Saeed went straight to Cairo to join thousands of Islamists staging a round-the-clock vigil to demand the president's return, Sayed has stayed in his sleepy village.
Sporting the same haircut and close-cropped beard as the ousted Islamist leader, Sayed distinguishes between the generals he blames for his brother's downfall and the army itself that remains a source of enormous pride.
"The most important thing in this country is the army. It's a red line for Egyptians. If someone in the army makes mistakes, that's a problem. But we are humans and we make mistakes," he said, sitting on a cushion on the plastic mat-covered floor.
General Abdel Fattah al-Sisi, who ordered Morsy's removal after huge street protests against the president, has called for more rallies on Friday, challenging the Muslim Brotherhood which is planning its own marches.
The Brotherhood has accused Sisi of staging a coup and say they fear the return of a "police state."
Morsy himself has not been seen in public since 3 July and has been held at an undisclosed location.
Even the family has not heard from him, but asked if he feared for his brother's safety, Sayed said: "I've never been afraid in my life. I only fear God. He is protecting Egypt."
SYMPATHY
Outside the village's main mosque, men in long robes emerged from midday prayers and offered similar sentiments. "The army is not Sisi," said Ali Ibrahim, a farmer. "The army is my son, my brother, my uncle. The army belongs to us, it is made up of us."
Mohamed Morsy's life was shaped by his membership of the Muslim Brotherhood, a movement he joined while studying in California more than three decades ago.
Sayed credits the army with instilling the values that are helping him through this difficult time, speaking fondly of his mandatory military service in 1983 and 1984 and saying the army gives Egyptian men their sense of "manhood."
"The army teaches Egypt's sons how to work, how to think. You learn what to do when you are in a hard place, when you face a difficult situation."
Al-Adwa's roughly 5,000 people voted overwhelmingly for Morsy in last year's elections, breaking with the rest of the Nile Delta province of Sharqiya, who chose his opponent.
While there was still much sympathy for their local hero, who visited the village twice during his short-lived presidency, there is also lively criticism of his Muslim Brotherhood.
"He is a man of our village. We know he's a good person," said Ismail Mohamed al-Saddiq, 43, a farmer and a father of three who also does construction work to make ends meet.
"His problem was that he brought the Muslim Brotherhood into all of the seats of power. That made people mad," said Saddiq as he sat under a tree next to rows of tall corn stalks with his eldest son Mohamed, while his brother Ehab shoveled cow manure.
"Morsy or no Morsy, we all wanted someone to fix the country: to make it better, not worse," he added, voicing a demand of the original 2011 uprising, when Egyptians of all colors united to topple the autocratic Hosni Mubarak.
Down the street from the mosque, a woman selling olives and pickled lemons and onions said she feared for Egypt at a time when nearly 200 people have died in violence since Morsy's overthrow.
"The Muslim Brotherhood should have mercy upon us and let the army do its work. They had their chance and didn't know what to do," said Sahar Ibrahim, 38, as she bounced her toddler on her lap. "People are dying every day. The army needs to be in charge to protect the country, to stabilize things, so people can live in security."