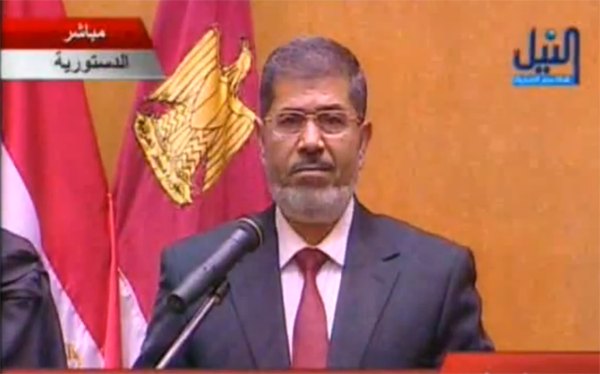 President Mohamed Morsy announced Thursday night that he has pardoned 572 military prisoners who were detained in connection with the 25 January revolution or protests during the transitional period to mark the beginning of the holy month of Ramadan.
He said that these prisoners had no charges proven against them, and that this was only the first phase of pardoning military detainees.
Morsy expressed his hope that this Ramadan, which begins Friday morning, will be "a month of wellness for Egypt, the Arab and Islamic world, and the whole world."
In the speech, Morsy called on Egyptians to set an example for the world in production, stability, security, and support for the poor. He also affirmed Egypt's commitment to its "sister countries" in Africa and promised to work with the African Union to develop and stabilize the continent.
Egypt's main problems, listed as security, traffic, fuel shortages, access to food and pollution, will not be solved without the coordination of state bodies, Morsy said. He called for a national initiative on 27 July to clean the streets in Egypt, an initiative which he dubbed "clean nation."
He assured that Egypt has numerous resources, but that work needs to be done in order to boost the economy and ensure the fair distribution of wealth to citizens. He also urged citizens to use the complaints offices he had opened, or to file complaints with the government online or by phone.
Morsy emphasized the importance of free speech and freedom of the press, saying, "In this critical state, the Egyptian media needs to be liberated from the legacy of the ousted regime."