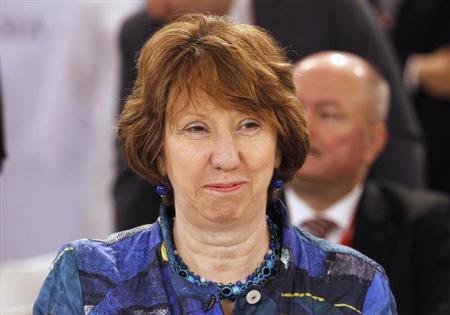 A senior Muslim Brotherhood figure has said that deposed President Mohamed Morsy told EU foreign policy chief Catherine Ashton he refused to trade off his presidential legitimacy for a safe exit for himself and other Brotherhood prisoners.
The Brotherhood source, speaking on condition of anonymity to the Turkish Anadolu news agency, said leaders of the Muslim Brotherhood were briefed of details of Morsy's meeting with Ashton, but did not elaborate.
The source said that Ashton suggested the group should end sit-ins in return for Morsy's release, and that of other Brotherhood detainees.
Morsy reportedly refused.
The source claimed Morsy was ousted by a coup d'etat, adding that he had intended to call for a referendum following parliamentary elections scheduled for September or October.
Morsy emphatically told Ashton that he is the legitimate president of Egypt through elections deemed free and fair by the European Union, the source added.
The ousted president reportedly demanded an end to violence against Brotherhood supporters and the release of prisoners linked to the Islamist group.
Morsy is currently being held incommunicado in an undisclosed military location.
He faces charges of collaborating with Hamas to launch hostile attacks in Egypt, including assaults on security installations and a prison break during the January 2011 revolution.
At a Tuesday press conference, Ashton said Morsy is in good health and is being treated well, but she did not disclose what was discussed during their meeting.
Ashton also said she did not know where Morsy was being held.
Edited translation from Al-Masry Al-Youm