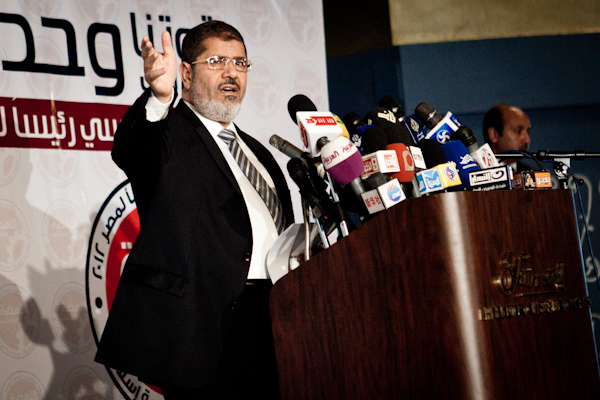 Presidential hopeful Mohamed Morsy pledged Thursday during a meeting with revolutionary activists that he would include youth representatives in his presidential administration and cabinet.
Morsy said in a statement following the meeting that the revolution will continue and he will not make any compromises to jeopardize it. He stressed that the People's Assembly should be reinstated and denounced the supplement to the Constitutional Declaration. He said that the amendments give the military council the pretext to remain in power after 30 June.
A meeting attendee who asked to remain anonymous said that the participants asked that Morsy not negotiate with the Supreme Council of the Armed Forces or include them in a coalition cabinet. The source said that Morsy agreed to both demands.
State-run newspaper Al-Ahram quoted a meeting participant as saying that the revolutionary activists present called on Morsy to develop projects that are inclusive of all Egyptians.
The source added that Morsy asked the activists to prepare proposals and ideas to be discussed in future meetings.
Freedom and Justice Party leader Mohamed al-Beltagy said the meeting attendees included Wael Ghonim, one of the administrators of the Arabic-language "We Are All Khaled Saeed" Facebook page, and 25 January Revolution Youth Coalition members Mohamed al-Shahawy, Islam Lotfy, and Khaled Abdel Hamid.
Beltagy added on his Facebook page that National Association for Change member Abdel Gelil Mostafa, novelist Alaa Al Aswany, and political researchers Ammar Ali Hassan and Hamdy Qandil also attended the meeting.
Beltagy said that Morsy consulted with Mohamed ElBaradei and Abdel Moneim Abouel Fotouh to discuss recent developments and "confront the military coup."
April 6 Youth Movement Democratic Front spokesperson Tarek al-Kholy said that he will meet with Morsy Friday afternoon.