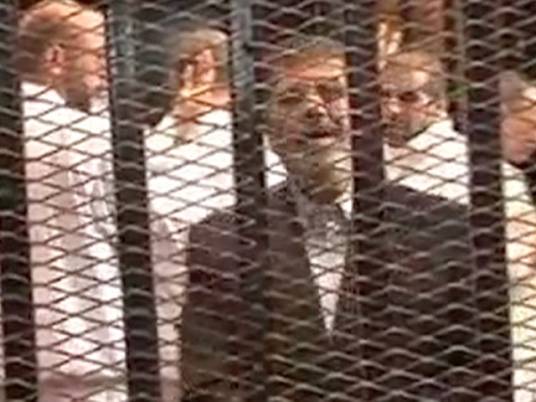 Mohamed Morsy performed Friday prayers in his cell at Borg al-Arab Prison, according to security sources, after he was forbidden from attending the prison's mosque.
Security sources told Al-Masry Al-Youm that Morsy performed prayer on his own out of fear on his life and so as not to come into contact with fellow prisoners who also perform prayers at the mosque.
Morsy was transferred to a solitary cell after his 10-day quarantine ended, in accordance with prison regulations, assistant Interior Minister Ahmed Helmy told Al-Masry Al-Youm Thursday.
Helmy ruled out any discriminatory treatment against Morsy, adding the same regulations are applied to all prisoners.
A security source told Al-Masry Al-Youm that transferring a prisoner to a solitary confinement was a procedure followed in some cases to protect the prisoner's life.
North Cairo Criminal Court headed by Judge Ahmed Sabry Youssef adjourned the trial of Morsy and 14 other Muslim Brotherhood leaders to 8 January over charges of inciting the killing of protesters outside Ettihadeya Palace in December 2012.