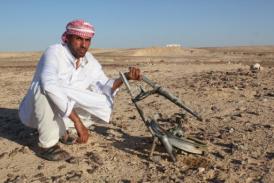 A delegation of North Sinai tribal chiefs met with President Mohamed Morsy at the Ettehadiya Presidential Palace in Heliopolis on Thursday. North Sinai Governor Abdel Fattah Harhour, his deputy and the head of the Sinai Development Authority also attended the meeting.
The officials discussed the potential pardon of certain Sinai detainees, and developing the telecommunications network in Sinai to provide coverage for the entire governorate. Morsy promised to work on achieving the demands of the Sinai chiefs within a month, and to accelerate the implementation of the government's development plans, said a statement issued by the Morsy administration.
The annual budget for development projects in the governorate will be raised from LE50 million to 100 million, and the delegation will be given the opportunity to visit Sinai citizens currently detained in the Abu Zaabal and Aqrab prisons, the statement continued. Morsy also promised to review a number of legislative matters, including granting the people of Sinai the right to own and use land within the framework of development projects. The president's office requested 25 days to review the cases, and also demanded the formation of a committee of tribal chiefs and other representatives to follow up on each issue with the administration.
After the meeting with Morsy, the Sinai delegation met with representatives of the Armed Forces and military intelligence to discuss the possibility of cancelling the 2012 resolution that banned land ownership on the eastern border of the governorate.
Mosallam Arif, founder of Sinai Shield Movement, said the movement declined the administration's invitation to participate in the meeting, because they didn't trust Morsy's promises or commitment to the revolution. He accused the president of breaking his promises to all revolutionary forces and previous delegations of the people of the nation's border areas.
Edited translation from Al-Masry Al-Youm