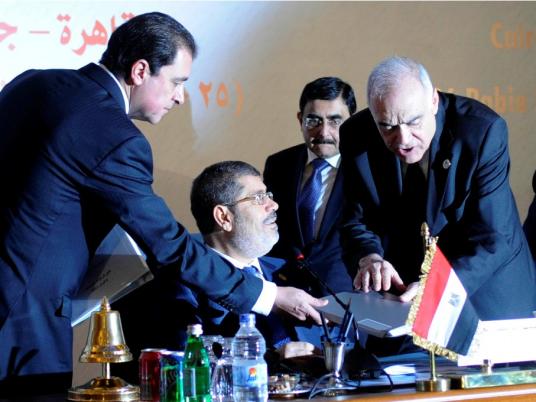 President Mohamed Morsy met with Jama'a al-Islamiya's Construction and Development Party Tuesday at the Ettehadiya Presidential Palace.
The CDP members who attended included party chief Nasser Abdel Salam, political bureau head Safwat Abdel Ghany and founder Tarek al-Zomor.
The president's office said in a statement on its Facebook page Tuesday, "The president stressed the importance of national unity and [expressed] his support for continuous communication with all national forces. The Construction and Development Party has pushed for a comprehensive national dialogue, given that dialogue is the only way to ensure national reunification and the primary means for consensus on national issues."
The CDP discussed the country's latest political developments and its views. Presidential assistant Pakinam al-Sharqawy and presidential adviser Ayman Ali also attended the meeting.
Edited translation from Al-Masry Al-Youm