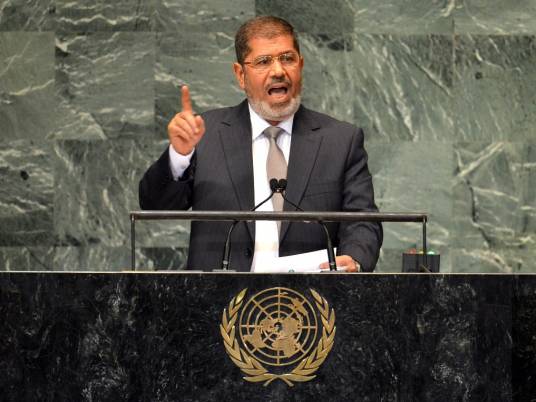 President Mohamed Morsy said Friday that his government does not intend to reconcile with figures of the former Mubarak regime accused of stealing money from Egypt, even if they return the money they stole.
"I call on citizens to donate to Egypt's Renaissance Project, to contribute to the elevation of the nation," Morsy said at a press conference at Assiut University attended by political forces and governorate officials.
"I will not allow any ideological trends to mess with our resources and homeland, or to attempt to change its identity, [which is] affiliated with the Arab Islamic nation," Morsy continued.
He added that Egypt is going through a critical period, which will require battling "oppression and marginalization" in order to achieve "development, stability and social justice."
"The development of Upper Egypt requires the unity and cooperation of all the sons of the homeland," Morsy said. "We are capable with the resources we have to [achieve] a bright future."
Morsy is visiting Assiut to inspect its aqueducts project, which has cost LE4 billion. The project is slated to help irrigate about 1.65 million acres, equivalent to 20 percent of Egypt's entire cultivated area.
Following his remarks, Morsy visited the Southern Military Zone to inaugurate a military-established medical center for the treatment of tumors, and then met with military officers and soldiers.
Edited translation from Al-Masry Al-Youm