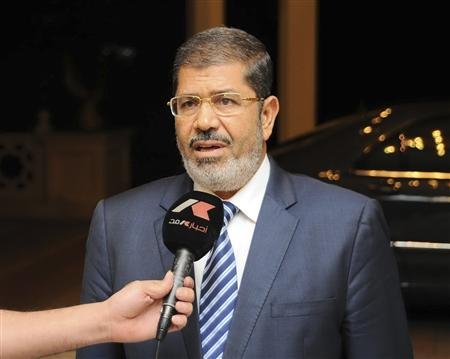 "If the situation necessitates another revolution, I will call for it," President Mohamed Morsy declared in a meeting Friday with the Egyptian community in the Cornothia Hotel during his first-ever, two-day visit to Khartoum.
Obtaining basic necessities food and clothes should not distract the Egyptian people from achieving higher and greater objectives, Morsy insisted. The president said he intended to develop the nation's resources and achieve a fair distribution of wealth, and social justice across the social classes, adding that the people should avoid discord among themselves, as that only leads to wasting time and opportunities.
"We are capable of achieving a renaissance," he proclaimed. Corruption under the former regime sucked the blood of people, but "if we do not march forward, we go backward," he warned.
"We are walking on a ground of thorns and our feet are bleeding, but we will reach our [goal] and will not surrender; no one can control Egyptians or think that the 90 million could be deceived," Morsy asserted. There are desperate attempts to return some symbols of corruption to the front once again, he warned, expressing astonishment at those attempts. The president stressed it is impossible to allow those who spoiled the country to resume control of its destiny.
Morsy admitted that the country is suffering from economic problems, but "if our friends cooperated with us, we would overcome the crisis in six months; and if they did not, we would do in nine months," he claimed.
"God is the ever providing," the president alleged. "That was evident in Egypt's production of 9 million tons of wheat [after the revolution], although the same cultivated area used to produce 5 million tons before," he claimed.
Edited translation from Al-Masry Al-Youm