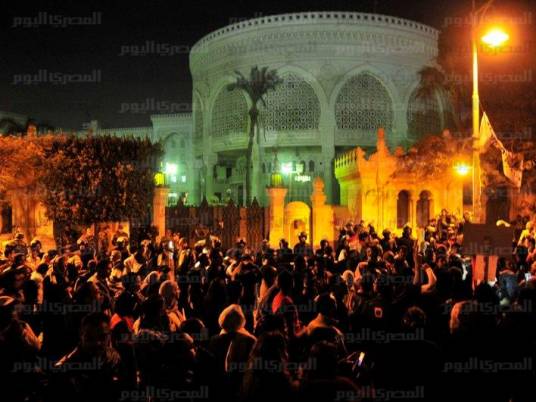 Public prosecutors have referred ousted President Mohamed Morsy and other Brotherhood officials to court for inciting supporters to carry out violence against peaceful protesters outside the Ettehadiya presidential palace last year.
Morsy and a list of key Islamist politicians face charges of inciting supporters to carry out murder, use violence, as well as arrest and torture peaceful protesters on 5 December 2012.
Violent clashes broke out between Morsy's opponents and supporters outside the presidential building in east Cairo in December, as protesters called for the rejection of a Constitutional Declaration by Morsy which put his decisions beyond the reach of judicial oversight.
Prosecutor General Hisham Barakat referred Morsy, Freedom and Justice Party (FJP) leader Essam al-Erian, presidential staffer Assad Sheikha, Morsy's office chief Ahmed Abdel Aaty and former presidential adviser Ayman Hodhod to court over the charges.
Leading Brotherhood officials and affiliated individuals, including deputy Supreme Guide Kairat al-Shater, Brotherhood leader Mohamed al-Beltagy and prominent preacher Wagdy Ghoneim have also been charged.
Brotherhood activists Abdel Rahman Ezz and Ahmed al-Mogheer, Salafi leader Gamal Saber and three others will also be referred to Cairo Criminal Court on charges of carrying out the violence, which several several killed and many more injured.
According to investigations, after Morsy issued the Constitutional Declaration, opposition groups staged protests in from of the Ettihadeya palace to reject the announcement and launch a sit-in.
Prosecutors say Morsy asked the leader of the Republican Guards and former Interior Minister Ahmed Gamal al-Deen to disperse protests but they refused to follow his orders. Presidential aides, including Sheikha, Abdel Aaty and Hodhod, then called on their supporters to rally at the palace to forcibly break up the protest. Erian, Beltagy and Ghoneim incited the forcible dispersal of the protest through the media, prosecutors claim.
Investigations revealed that there is evidence that defendants and their supporters assaulted protesters, removing their tents, burning them and firing on demonstrators.
Reporter al-Husseiny Abu Deif was killed during the violence after he was shot in the head.
Several other protesters were injured with bladed weapons. 54 of them were allegedly detained close to the palace and tortured.
Edited translation from Al-Masry Al-Youm