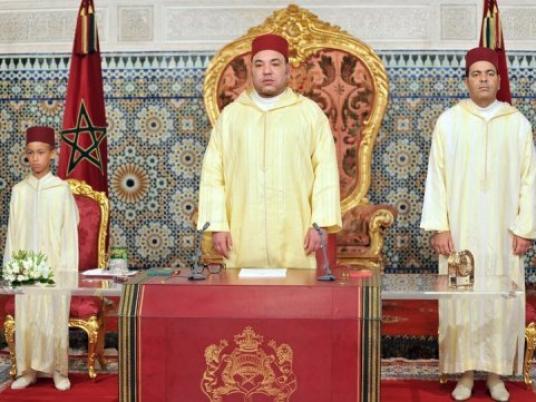 Moroccan government officials pledged their allegiance to King Mohammed VI on Tuesday, bowing down before the monarch at an annual "celebration of loyalty" that activists have criticized as "backward."
Cloaked in a golden robe the king, who has been on the throne for 13 years, paraded around the palace grounds on horseback, shaded by a large parasol, for the ceremony known as "Celebration of loyalty and allegiance."
His brother and his cousin accompanied him as he rode past senior government officials and representatives from 16 regions and 40 provinces, who bowed and chanted: "May God protect our king," state television showed.
Activists have denounced the ceremony, which some say reflects an "ignorance and backwardness" in Morocco that is inappropriate for the 21st century, and are organizing a protest outside parliament on Wednesday to voice their opposition.
The protest has been dubbed a "Celebration of loyalty to freedom and dignity" in an ironic swipe at the royal event, and more than 1,300 people are expected to attend, according to the protest group's Facebook page.
Hamza Hafouz, a member of the protest group, told AFP last week: "We've had enough of these practices, which undermine dignity."
"We want to see the country take real steps towards modernity by breaking with these kinds of practices," he added.
The traditional royal ceremony, which is less elaborate than it used to be, first took place in 1934, during the colonial period, as a protest against Morocco's French colonial masters.
Despite higher levels of press freedom than in some Arab countries, open criticism of the Moroccan king, who is officially referred to as the Commander of the Faithful, is rare.