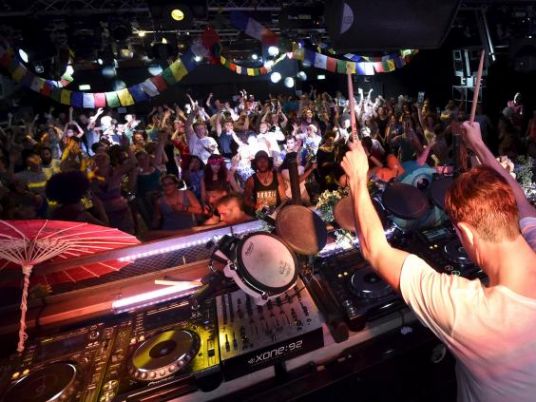 Blaring house music, colored lights, glittery faces and gyrating bodies are not your typical weekday morning. But that's the way it is for growing numbers of health-minded 20-somethings and retired clubbers no longer keen on all-night partying.
Morning dance parties with names like "Morning Gloryville" and "Daybreaker" are gathering steam in cities across the world, giving rise to a movement known as "conscious clubbing".
Its founders aim to create the energy and community of electronic dance parties with fruit smoothies and coffee instead of the drugs and alcohol more common after nightfall.
"It's about changing the way people think. It's about expanding hearts and minds," said Samantha Moyo, the 28-year-old founder of Morning Gloryville, whose recent Tuesday morning party at London's famed club Ministry of Sound attracted several hundred people from 6:30 to 10:30 a.m.
Attendees were greeted by hosts offering "Free Hugs," yoga practice and massages. Other parties offer tickling workshops, sleepovers and pillow fights.
"We're trying to create a sober festival in an urban environment," said Moyo, who grew up between Zimbabwe and England and previously worked as an event planner. "Our thing is very much about bringing the flower power back into the cities."
Daybreaker co-founder Matthew Brimer says his events are part dance party, part immersive theater that aim to take advantage of life's unspoilt hours.
"There was already nightlife," Brimer thought in 2013 when he threw the first party in New York. "What if we created morninglife?" The results were better than expected.
"It's such a new feeling. You've got all this morning energy in people. They haven't been through a whole day, they're not tired," he said. Daybreaker now attracts up to 1,000 people per party in its hometown of New York and has spread to eight cities around the world including London, Tel Aviv and Sao Paolo.
Morning Gloryville was born the same year in London, and has since expanded to about two dozen cities including Rome, Melbourne and Tokyo. The parties are usually held during the week, taking advantage of nightclubs' off-hours and people's growing interest in pre-work exercise.
Corporate sponsors have noticed the trend.
Lipton tea, owned by Unilever, has this summer sponsored a raft of early-morning events including a sunrise movie screening, dance party and river cruise. Imperial Tobacco used a "rise 'n rave" dance party for the January launch of a new product – caffeinated mouth strips.
So far, morning parties are appealing to people who like the idea of starting their day with a burst of energy.
"London needs cheering up," said Rosie Neave, a club-going youth worker who lives in southeast London. "To be able to get free, get out your inhibitions and to be able to carry that through the day … it's got to mean something."