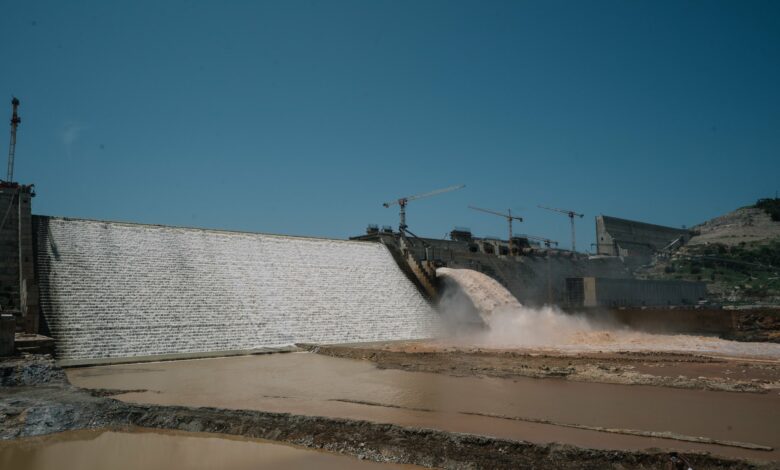 Satellites showed that seven days after the start of the third storage in the Grand Ethiopian Renaissance Dam (GERD), more than one billion cubic meters of water were stored in the dam, Egyptian water expert Abbas Sharaky said in an interview with RT, on Monday.
Sharaky said that the two drainage gates will continue to open (60 million m3 / day), adding that this is evident from comparing the level of water in the lake today with the highest level of water in the lake in September.
He stated that last week's total size of water was about 1.5 billion m3, half a billion m3 was drained through the two drainage gates and the remaining billion was stored.
The third storage is expected to be about five billion m3 in addition to the storage of the past two years, bringing the total to about 13 billion m3.
Egyptian Minister of Irrigation and Water Resources Mohamed Abdel-Aty said in October that an international committee was formed to study the dam in 2011 and ended in 2013, which he said confirmed that there are major technical problems in the dam's construction which could lead to instability.
Egypt has informed Ethiopia of its concerns and desire to follow up and cooperate on the matter, but Ethiopia insists that all of the dam's issues have been resolved.
Abdel-Aty said that Egypt has preventive measures to protect it in the event that the GERD collapses. He explained that this is done by establishing the strongest infrastructure system around the High Dam in Aswan.
Dam dilemma
Egypt and Sudan say they want a legally binding agreement on operating the dam, while Ethiopia says any pact should be advisory.
Egypt and Sudan consider the dam a threat to their vital water supplies, while Ethiopia considers it essential for development and doubling its electricity production.
The downstream nations fear possible blows to water facilities, agricultural land, and overall availability of Nile water.
Negotiations over the dam between Egypt, Ethiopia, and Sudan have stalled for years, with the three parties ultimately failing to reach any agreements.
The disputed dam is the largest hydroelectric project in Africa, with a cost of more than four billion dollars.