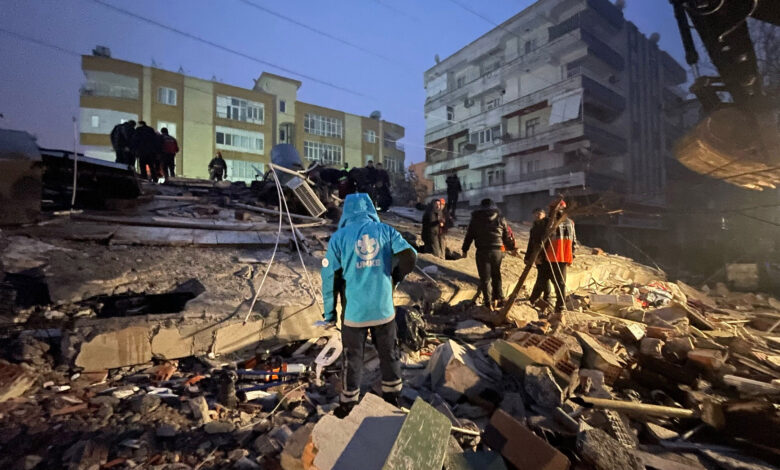 Istanbul, Turkey
CNN
 —  Rescuers are racing to find survivors trapped beneath rubble either side of the Turkey-Syrian border as the death toll from one of the strongest earthquakes to hit Turkey in 100 years rose beyond 500 people.
Nearly 3,000 others were injured as the 7.8-magnitude quake shook residents from their beds around 4 a.m. Monday morning, sending tremors as far away as Lebanon and Israel.
The earthquake's epicenter was 23 kilometers (14.2 miles) east of Nurdagi, in Turkey's Gaziantep province, at a depth of 24.1 kilometers (14.9 miles), the United States Geological Survey (USGS) said.
Video from the scene in Turkey showed day breaking over rows of collapsed buildings, some with apartments exposed to the elements as people huddled in the freezing cold beside them, waiting for help.
In Turkey, at least 284 people were killed and more than 2,300 injured, according to Vice President Fuat Oktay. In neighboring Syria, at least 237 people died and more than 630 were injured, Syrian state news agency SANA reported citing a Ministry of Health official. The deaths were reported in Aleppo, Latakia, Hama and Tartus.
Dozens of people are trapped under rubble, according to the "White Helmets" group, officially known as Syria Civil Defense, a humanitarian organization formed to rescue people injured in conflict. Much of northwestern Syria, which borders Turkey, is controlled by anti-government forces amid a bloody civil war that began in 2011.
Monday's quake is believed to be the strongest to hit Turkey since 1939, when an earthquake of the same magnitude killed 30,000 people, according to the USGS. Earthquakes of this magnitude are rare, with fewer than five occurring each year on average, anywhere in the world. Seven quakes with magnitude 7.0 or greater have struck Turkey in the past 25 years – but Monday's is the most powerful.
Karl Lang, an assistant professor at Georgia Tech University's School of Earth and Atmospheric Sciences, told CNN the area hit by the quake Monday is prone to seismic activity. "It's a very large fault zone, but this is a larger earthquake than they've experienced any time in recent memory," Lang said.
'It felt like it would never be over'
Journalist Eyad Kourdi, who lives in Gaziantep and was staying with his parents when the earthquake struck early Monday, said "it felt like it would never be over."
When the shaking stopped, Kourdi and his parents walked out of their home still wearing their pajamas, he said.
With several inches of snow on the ground, they waited outside in the rain for about 30 minutes before he could go back inside to grab coats and boots.
Strong aftershocks have been felt in southern and central Turkey. About 11 minutes after the main quake hit, the strongest aftershock of 6.7 magnitude hit about 32 kilometers (20 miles) northwest of the main quake's epicenter. Another intense aftershock with a magnitude of 5.6 then occurred 19 minutes after the main quake.
Kourdi said there were up to eight "very strong" aftershocks in under a minute after the 7.8 magnitude quake struck, causing belongings in his home to fall to the ground. Many of his neighbors had left their homes following the quake, he said.
Photos showing the true scale of the disaster emerged as day broke in Turkey. Entire buildings have been flattened, with metal rods scattered across the streets. Cars have toppled over, while bulldozers work to clear the debris.
A winter storm in the region is exacerbating the disaster, according to CNN meteorologists.
"Hundreds of thousands of people are impacted by this. It is cold. It is rainy. Roads could be impacted, that means your food, your livelihood, the care for your children, the care for your family," CNN meteorologist Karen Maginnis said.
"Anything as far as crops or anything growing across this region will be impacted as well. The ramifications of this are broad and will impact this region for weeks, and months."
Searching for survivors
Search and rescue teams have been dispatched to the south of the country, Turkey's interior minister, Suleyman Soylu, said. AFAD, the disaster agency, said it had requested international help through the Emergency Response Coordination Centre (ERCC), the European Union's humanitarian program.
Nearly 1,000 search and rescue volunteers have been deployed from Turkey's largest city, Istanbul, along with dogs, trucks and aid, according to its governor, Ali Yerlikaya.
"Sorry for our loss. I wish our injured a speedy recovery," Yerlikaya wrote on Twitter.