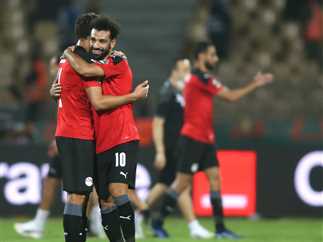 Liverpool star Mohamed Salah has returned to the Egyptian national football team, joining the first squad of the new Portuguese coach, Rui Vitoria, in preparation for the two friendly matches of Niger and Liberia at the end of the month.
Salah had missed the last two matches of the Pharaohs team, the results of which were the reason for the dismissal of former national team coach Ihab Galal, after losing to Ethiopia 0-2 in the second round of Group D in the 2023 Africa Cup of Nations qualifiers, and against South Korea 1-4 in a friendly match.
The Egyptian Football Association overthrew Galal, just two months after receiving the task, succeeding Portuguese coach Carlos Queiroz.
Vitoria was appointed on July 12 to head the technical management of the Egyptian national team. He announced his first squad on Sunday, comprising 27 players for the two friendlies with Niger on September 23, and with Liberia on September 27, at Alexandria Stadium.
The current Egyptian national team
Goalkeepers: Mohamed al-Shennawy, Ahmed al-Shennawy, and Mohamed Sobhy.
Defense: Karim Fouad, Omar Gaber, Ali Gabr, Ahmed Hegazy, Mohamed Abdel Moneim, Osama Galal, Mahmoud Hamdy al- Wensh, Ayman Ashraf, Mohamed Hamdy and Ahmed Aboul Fotouh.
Mid-fielders: Hamdy Fathy, Tariq Hamed, Mahmoud Hamada, Imam Ashour, Islam Issa, Ahmed Sayed Zizou and Mohamed Ibrahim.
Attack: Mohamed Salah, Abdel Rahman Magdy, Ahmed Hassan Koka, Marwan Hamdy, Mustafa Mohamed, Omar Marmoush and Mahmoud Hassan Trezeguet.
Egypt is preparing for the qualifiers for the Africa Cup of Nations 2023 in Cote d'Ivoire. Egypt ranks fourth in Group D with three points. Ethiopia ranks first, Malawi second and Guinea third.