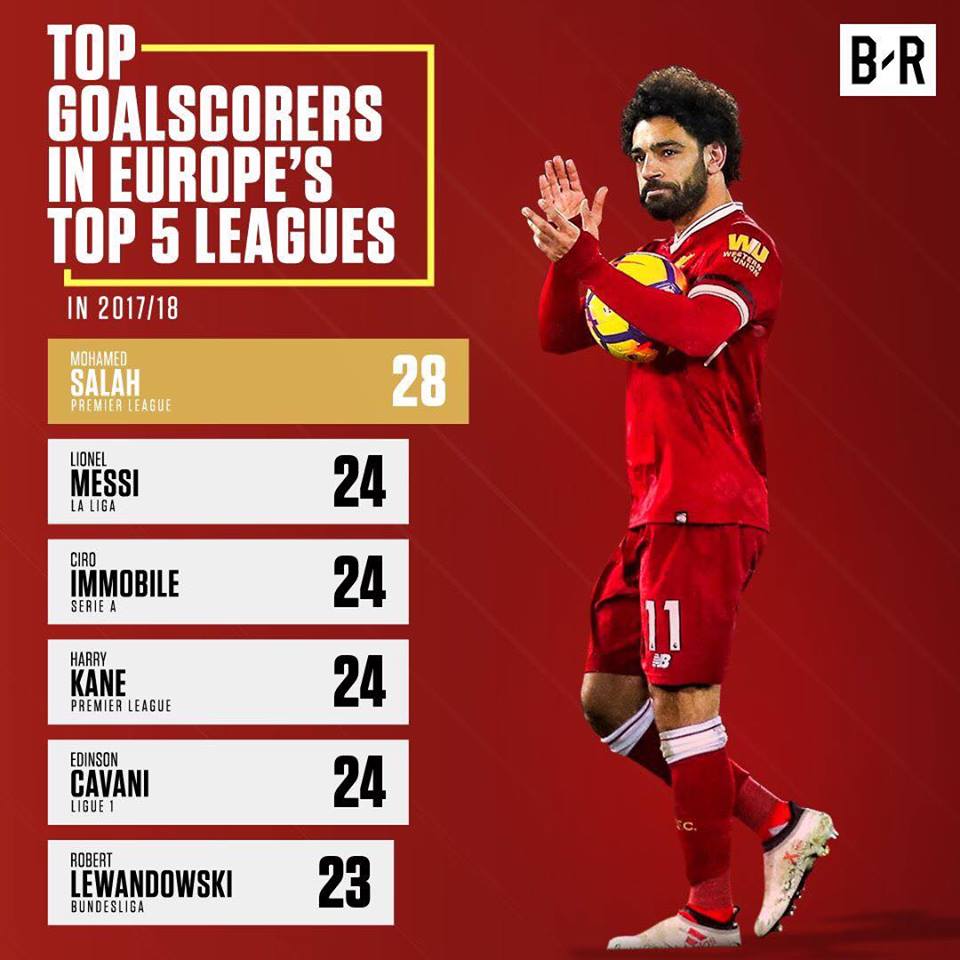 Egyptian football sensation and Liverpool striker Mohamed Salah has been crowned the top scorer in Europe's top five leagues for the 2017/2018 season, overtaking football legend Lionel Messi with a four goal difference (28-24).
The feat was achieved after Salah scored his first super hat-trick on Saturday against British team Watford, granting Liverpool a 5-0 win in the 31st round of the Premier League.
On the top-five list, Salah and Messi are followed by Ciro Immobile, Harry Kane and Einson Cavani who all tie with Messi at 24 goals, followed by Lewandowski at 23 goals.
This puts Salah as one of the favorites for the prestigious European Golden Shoe for the season 2017/18.
Besides his four-goal-in-a-one-match achievement, Salah assisted in a fifth goal by Liverpool, thus further establishing himself as the season's top scorer with a comfortable four-goal-lead over his nearest competitor.
Salah has never before scored a super hat-trick, neither with the Egyptian national team nor abroad.
But the 26-year-old has previously scored two regular hat-tricks (three goals) during his career. The first one was in 2013 with the Egyptian national team, when he scored three goals against Zimbabwe in the 2014 FIFA World Cup qualification, granting Egypt a 4-2 win.
Salah's second hat-trick came in a match between Roma against Bologna in 2016, as part of the Italian Serie A season 2016-2017, granting Roma a 3-0 win.
Salah's achievment puts him in league with Liverpool's legends, as he now becomes the fourth Liverpool player to score four goals in a single Premier League game following Robbie Fowler (vs. Bolton & Middlesbrough), Michael Owen (vs. Nottingham Forest & West Brom) and Luis Suarez (vs. Norwich)
The match score also puts Liverpool in a current standing of third place in the Premier League, behind Manchester City and Manchester United.
Salah is one goal away from Didier Drogba, who scored 29 goals in a single season, to become the African player to score the most goals in the English Premier League.
Among Salah's other achievements are: BBC's African Player of the Year title in 2017, Best African Player in February (2018) title by France Football and becoming the fourth African player to score more than 20 goals in one season of the English Premier League (EPL).
Image Credit: B/R Football Twitter account.