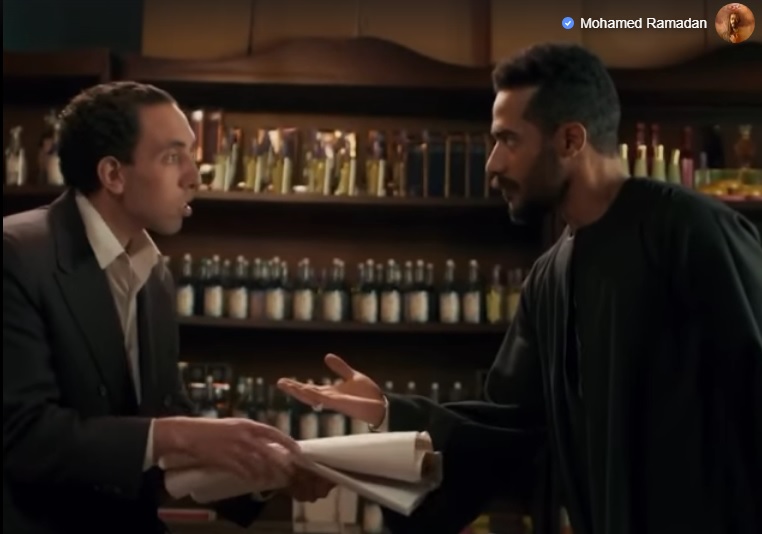 Egyptian actor Mohamed Ramadan has denied accusations of insulting the late comedy icon Ismail Yassine during a scene in the 12th episode of his Ramadan series "Moussa".
The scene in question includes someone who resembles Yassine. The man tries to exploit his resemblance to the actor to avoid paying a bill from the shop where Ramadan's character Moussa works. Moussa demands that the man pays.
Ramadan re-posted the scene on his Facebook account, and wrote: "Moussa, on his first working day in Downtown Cairo, in 1946, does not know about cinema or artists, and this saved him from a scam by someone who exploits his resemblance to Ismail Yassine."
The granddaughter of the late actor Yasmine Yassine said, in a Facebook post, that her grandfather's representation in the series was inappropriate.
She emphasized that she does not blame Ramadan, but she blames "the director, cameraman, and producer, who are supposed to belong to art."
Yasmine noted that Ramadan has previously offended her late grandfather, in reference to press statements dating back to 2017. She explained that Ramadan said at that time that Ismail Yassine's goofy portrayal of an Egyptian soldier was insulting. 
Poet and screenwriter Ayman Bahjat Qamar, who is related to Ismail Yassine, announced that he would file a lawsuit against Ramadan and the makers of the series Moussa because of the scene, calling it a deliberate abuse of the late artist, as it portrayed him as someone who would not pay for something he purchased.
Qamar added, in a Facebook post, that: "the physical movements that the late artist was famous for in his roles were also deliberately emphasized, which the makers of the work used as a tool for ridicule."
The director of the series, Mohamed Salama, also denied the accusations, adding that "people are strangely quick to judge things."
The story of "Moussa" takes place in the 1950s through the 1960s, and revolves around the journey of a man from Upper Egypt who loses his father at a young age and has to care for his younger brothers.
"Moussa" is starring Mohamed Ramadan, Sumaya al-Khashab, Abeer Sabry, Riad al-Khouly, Sayed Ragab, Sabry Fawaz, Munzer Rayahneh, Heba Magdy, Farida Seif al-Nasr, Arifa Abdel Rasoul, Amir Salah Eddin, Diaa Abdel Khaleq and a number of other artists, written by Nasser Abdel Rahman, directed by Mohamed Salama and produced by Synergy Company.