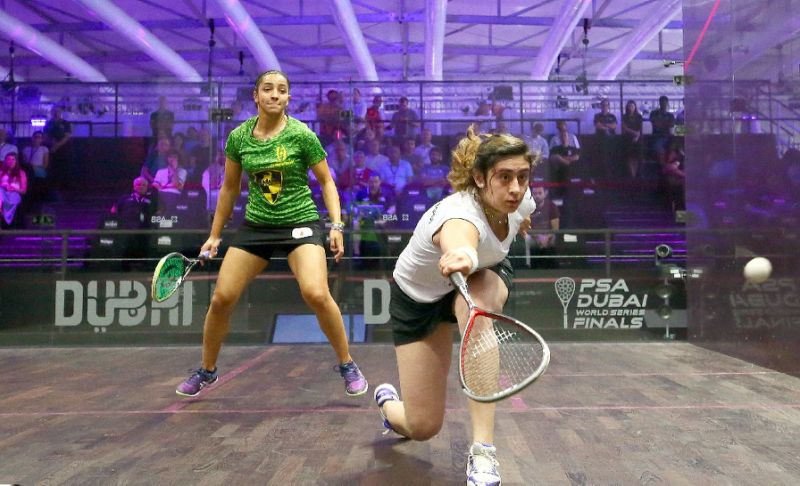 The prestigious PSA (Professional Squash Association) World Championship saw a change of hierarchy on Sunday which proved nothing in sport in impossible.
The women's world number two Raneem El-Weleily defeated world number one Nour El Sherbini, beating her in the final and taking the PSA title. While, in the men's category, in a feat considered the first of its kind, Mohamed El Shorbagy defeated his older brother Marwan El Shorbagy, to inscribe his name as the PSA World Champion.
The Manchester Central Convention Complex witnessed El-Weleily and El Shorbagy lift the titles for the first time, however, their journey to the title was not an easy one.
Mohamed's game with Marwan was remarkably balanced with little to separate the brothers throughout.
Mohamed won the first game 11-5 before his sibling fired back with an 9-11 win. Mohamed got back in the third game, winning 11-7, only to see Marwan have his snap back with another 9-11 win. It was the fifth and deciding game that saw Mohamed prevail with an 11-6 victory, ending the nail-biting encounter once and for all.
"It feels great, it's a dream come true," said the jubilant victor, Mohamed El Shorbagy.
"At 11-9 in the fourth [round] it was a huge blow, then I was down in the fifth and I had to fight and fight, he gave it everything," he remarked.
"I remember the 2012 match with Ramy, I know how he felt now. There was so much pressure on me, like Ramy in 2012, and in these matches you just want to win the last point."
"At the end we congratulated each other. It was my time today, with this title you have to be patient and it will come for him," Mohamed El Shorbagy said.
After winning the Championship, he was in no mood for resting or slowing down. The ambitious Mohamed instead he set his sights on the next challenges, "I've won everything in the sport now, but I still have much more to achieve and more titles to win."
Meanwhile, in the womens' category: despite taking home the title, El Welily had a rough start, losing to El Sherbini 3-11 in the first game.
However, she made a hard-earned comeback throughout her remaining games, securing a 12-10, 11-7, and 11-5 victory.
For El Welily, however, this win means a lot. Just last April, she lost out to El-Sherbini in the Women's World Championship Final – which took place in Egypt's Red Sea area of El Gouna.
"I felt so different today compared to the last World Championship final. That one was a nightmare, today I was so much more relaxed," she reflected.
The victors each take home a prize of $45,000, marking a major progressive step towards equality in the sport, as it is the first time that a World Championship offers equal prize money to both men and women victors.
Currently, Mohamed El Shorbagy ranks second while Marwan ranks fifth. Raneem El Welily ranks second, just behind her opponent in the final, Nour El Sherbini.