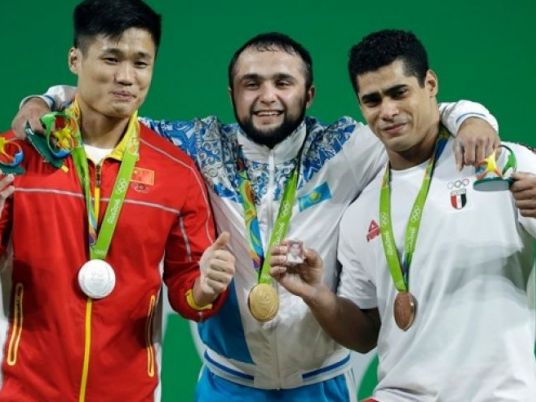 Egyptian weightlifter Mohamed Ehab won a bronze medal at the Rio Olympics on Thursday, taking third place in the men's 77 kg class and providing Egypt with its third weightlifting medal of the games so far.
China's Lyu Xiaojun was awarded silver in the same category, after having the gold snatched from him by Kazakhstan's Nijat Rahimov.
Ehab lifted a total of 361 kg over the two phases of the competition, putting him behind Rahimov and Xiaojun, who tied at 379 kg. However, Rahimov got the gold medal due to weighing in lighter.
Ehab's success follows a bronze medal for Egyptian weightlifter Sarah Samir in the women's 69 kg class on Wednesday. A third Egyptian weighlifting success was announced when Abeer Abdelrahman was elevated to a silver in the women's 75 kg class after the three winners all tested positive for banned substances.
After his win, Ehab wrote on his Facebook page, "I would like to express my utmost gratitude to all those who helped make my dreams a reality. To all those people who helped teach and guide me, who believed in me and believed that I deserved this Olympic medal, and to those people who have cared for me and showed me kindness and motivated me to succeed, I say thank you."
Ehab also expressed his thanks to his competitors, who he said "drove the competitive spirit inside him."
The Egyptian lifter placed second in the 69kg category at the 2014 World Weightlifting Championships in Almaty, and in 2015 he won two bronze medals at the World Championships in the United States.