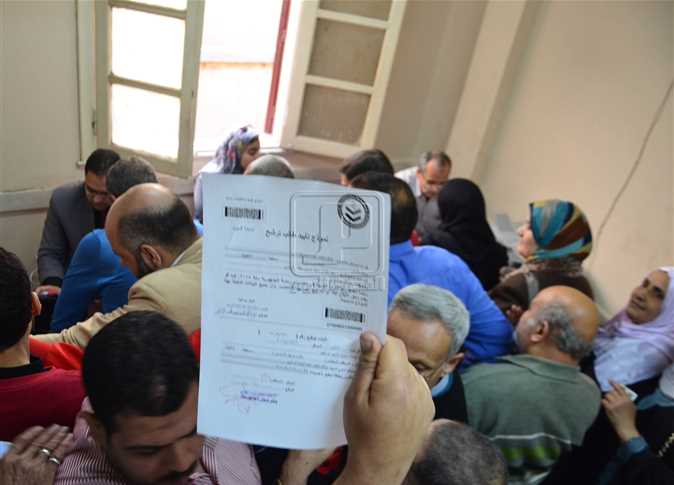 Notary offices across Egypt's governorates witnessed moderate turnout on Friday by people wanting to sign forms to authorize presidential hopefuls to run in the upcoming presidential elections.
To be accepted as a candidate for the presidency, candidates must receive the recommendation of at least 20 elected members of the House of Representatives, or support from at least 25,000 citizens enjoying the right to vote in at least 15 governorates, with a minimum of one thousand supporters from each governorate. In all cases, no one person can support more than one candidate.
This support (authorization) consists of a form issued by the notary offices across the country.
The Egypt Arab Party (Masr al-Oroba) said Friday that former Chief of Staff of the Armed Forces, Sami Anan, would hold an international press conference after reaching the 25,000 authorization signatures required for his candidacy.
In statements to Al-Masry Al-Youm, the Secretary General of the Egypt Arab Party Samy Balah said that Anan is a strong candidate and will be a strong competitor in the elections.
He added that the electoral program is ready, and that the candidacy of Anan will garner support from the Egyptian street, and called on the National Elections Commission (NEC) to put adequate guarantees to be committed by all.
Meanwhile, two campaigns have complained of obstinate employees at the notary offices who refused to issue the authorizations.
Khalid al-Balshy, the spokesman for rights lawyer Khaled Ali's campaign, said that some employees refused to issue authorizations for his candidacy.
Mohamed Anwar al-Sadat, a former MP and the head of the Reform and Development Party, who intends to run in the presidential race, said that his supporters were harassed in the notary offices while trying to get the authorizations issued.
"I won't make people laugh at me. I have made my decision for real competition, and the NEC's talk about integrity guarantees is good, but what is happening in fact is totally different," Sadat said in statements to Al-Masry Al-Youm. "I will announce my decision at the press conference on Monday," he said.
Across Egypt's governorates, thousands of people came to sign the authorization forms.
Sources with the notary office in al-Dakahlia said that the authorizations signed for president Abdel Fattah al-Sisi have reached 36,000 since the start of the signing of the authorizations. In Damietta, citizens complained of poor organization, queues and internet interruptions.
"Kolena Maa'k men Agl Misr" (Arabic for "We are all with you for the sake of Egypt) in Bani Suef governorate distributed t-shirts with a photo of Sisi to passersby and used vehicles to transport people to the notary office.
The headquarters of the notary office in Qena and its branches in the cities witnessed the deployment of delegates of "Kolena Maa'k men Agl Misr" to call for the signing of authorizations for Sisi.
Edited translations from Al-Masry Al-Youm