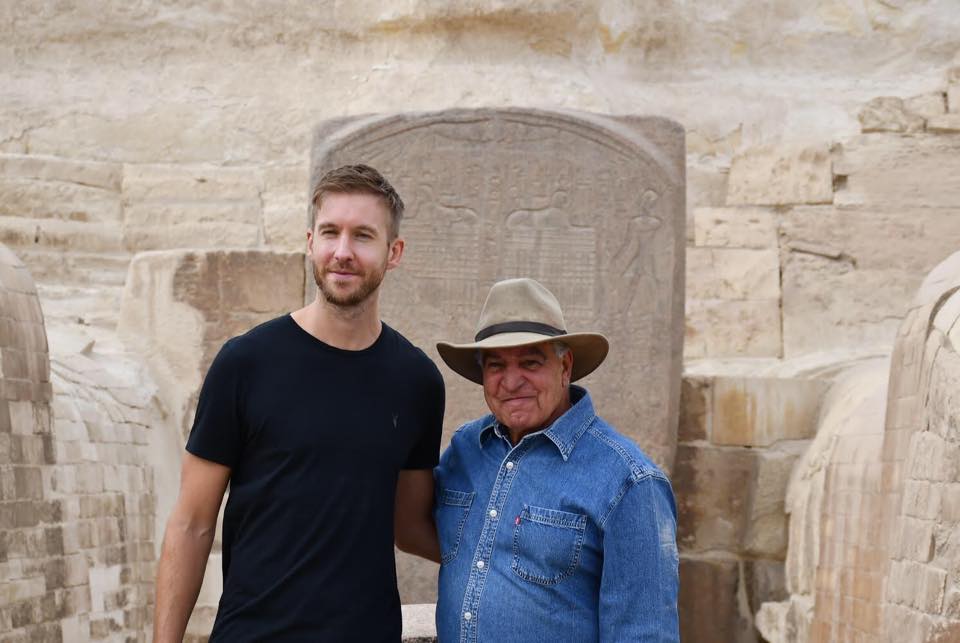 Prominent Brazilian fashion model Adriana Lima and Scottish singer Calvin Harris paid a visit to the Great Pyramids of Giza on Wednesday, while accompanied by Egyptian archeologist Zahi Hawass and Founder of Art D'Egypte Nadine Abdel Ghaffar, who gave them an inside look at the historical secrets of Egypt's most remarkable landmark.
In a Facebook post that day, Hawass said he had a great talk with Harris in front of the Sphinx and added that hopes to see him again in Egypt.
Lima also posted several photos through Instagram's story feature, expressing her excitement at seeing the ancient Egyptian monuments in person and urging people from around the world to visit Egypt.
Hawass explained to the two celebrities that the Sphinx belongs to the ancient King Khafre, denying as well all the rumors about the existence of secret corridors under the statue.
The iconic egyptologist also told Harris and Lima about the latest excavations carried out by the Egyptian Ministry of Antiquities, explaining as well the script he created for an opera based on Tutankhamen's life, which is set to mark the special occasion of the opening of the new Grand Egyptian Museum's (GEM) in 2020.
Hawas previously told TV presenter Amr Adib on his program "Al Hekaya" (The Story) that one of the opera's most thrilling scenes will depict Nefertiti's attempted murder of Tutankhamen.
Harris, who is a singer, producer, and songwriter, is known for a number of hit songs, including the 2011 mega popular "We Found Love ft. Calvin Harris," "This Is What You Came For" (2016), "Summer" (2014), "Feel So Close" (2011), and "Feels" (2017).
The Scottish artist's second studio album "I Am Not Alone," which was released in 2009, topped the UK Albums Chart. In 2017, his album Funk "Wav Bounces Vol. 1" was number 2 in the US and UK. Back in 2014, Harris became the first singer to have three if his songs placed on the top 10 of Billboard's Dance/Electronic Songs chart.
Lima, meanwhile, is best known for her modeling work for Victoria's Secret, which she began at age 17. In 2017, Lima received the title of "most valuable Victoria's Secret Angel."
Photo credit: Zahi Hawass's Faceook page.